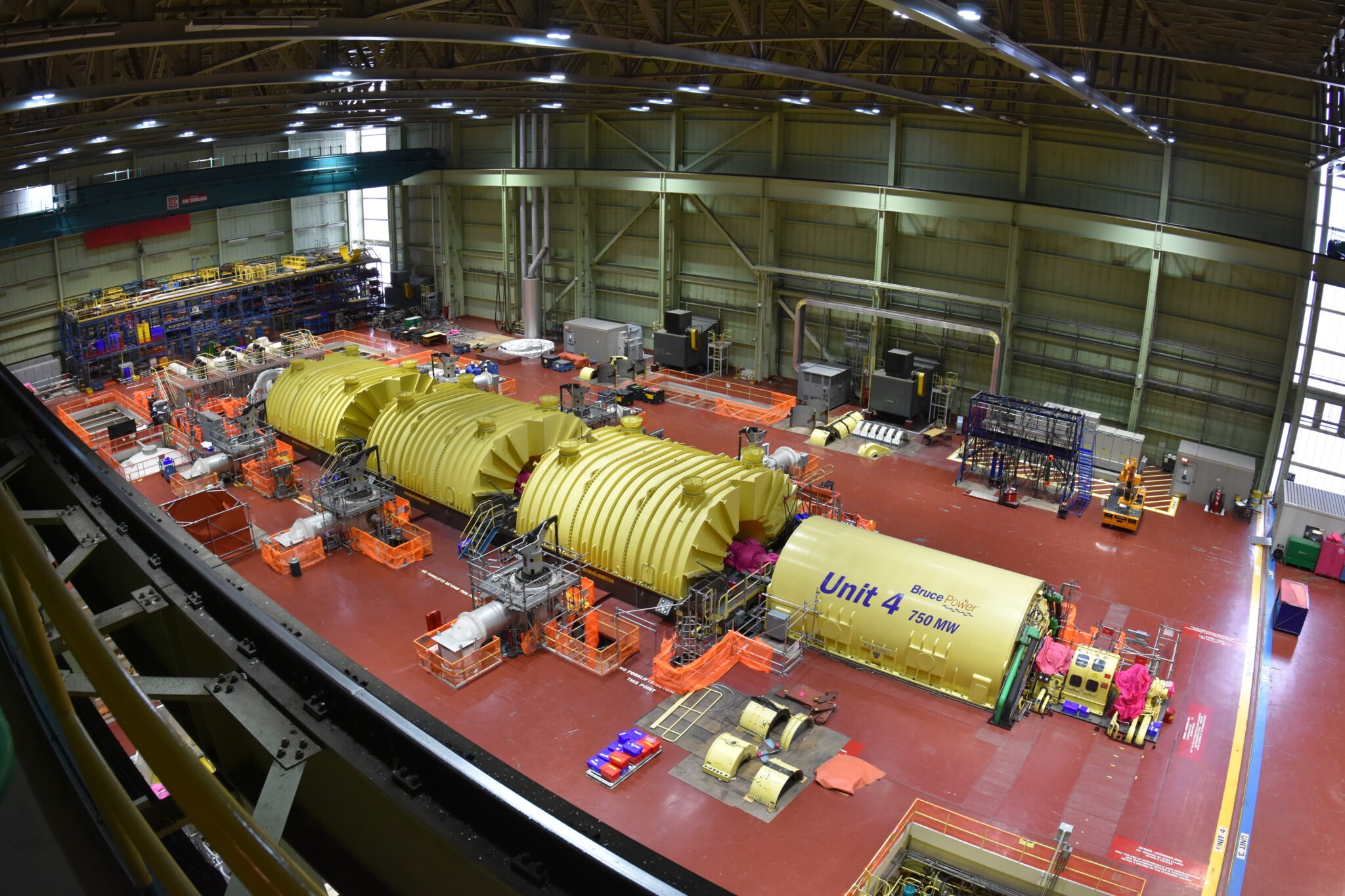 Unit 4 at Canada's Bruce Power NPP has returned to service following a successful 98-day planned maintenance outage, which represented a $130 million investment in the life extension of the unit. Work carried out during the outage included fuel channel inspections to ensure the unit will operate safely until its planned Major Component Replacement (MCR) outage begins in 2025. Unit 4 will undergo another planned inspection outage in May 2023.
The MCR project began in January 2020. The eight pressurised heavy-water Candu reactor units at the Bruce site (Bruce A – units 1-4, and Bruce B – units 4-8) began commercial operation between 1977 and 1987. Bruce Power's CAD13 billion ($10bn) Life Extension Programme, which includes Asset Management and MCR, began in 2016. MCR, which began with unit 6 and also includes units 3-8, will extend the life of the site until 2064. Units 1&2 have already been refurbished. The work, is expected to take 46 months for each unit. The life extension will add about 30 to 35 years of operational life for each unit, while other investments will add a combined 30 reactor years of operational life to the plant
Unit 4, during its latest outage, was the first of the eight units to undergo an extensive turbine controls upgrade, a $90 million investment that will contribute to the unit's reliable operation over the coming decades. Mike Rencheck, Bruce Power's President and CEO said the maintenance, inspection and project work undertaken during planned outages "represents a huge investment into our units to extend their operating lives to secure a clean and reliable source of electricity for the people of Ontario for the long term".
As part of the work during the outage, as part of Project 2030, unit 4's net peak capacity is expected to increase by 3MWe to a new maximum output of 855MWe. Project 2030 includes asset optimisation, innovation and leveraging new and efficient technologies to achieve incremental upgrades and additional generation output from operating units. Bruce Power is targeting a site net peak capacity of about 7,000 MW for the 2030s.
Unit 4 was also shut down in May for the Bruce A Vacuum Building outage, which saw all four operating units removed from service for planned inspections as required by the Canadian Nuclear Safety Commission. Vacuum buildings are unique to multi-unit Candu generating stations and are part of their robust safety systems, providing an additional protective barrier to the release of radioactivity to the environment in the highly unlikely event of a nuclear emergency. All four operating units must be shut down once every 12 years to allow for inspections and maintenance to the vacuum building.
Bruce Power said the MCR had a successful year in 2022. Most of the construction phase of the unit 6 MCR outage was completed and the unit back should be back online in the fourth quarter of 2023.
An important milestone was reached earlier in December with the completion of the refill of the moderator system, which circulates heavy water (D2O) through the calandria to remove moderator heat during reactor operation.
In November, the reactor area bridges were reinstalled in the unit 6 vault. The reactor area bridges carry fuelling machines to all units for fuel bundles to be installed and removed while the reactor is online, a feature unique to Candu reactors.
At the same time, Bruce Power is in the final stages of preparation for the unit 3 MCR outage, scheduled to begin on 1 March 2023. Renchek said he was pleased with the progress made towards bringing unit 6 back into service and beginning the unit 3 MCR outage. Bruce Power's MCR and Asset Management investments will be closely coordinated with Project 2030.
---
Image courtesy of Bruce Power