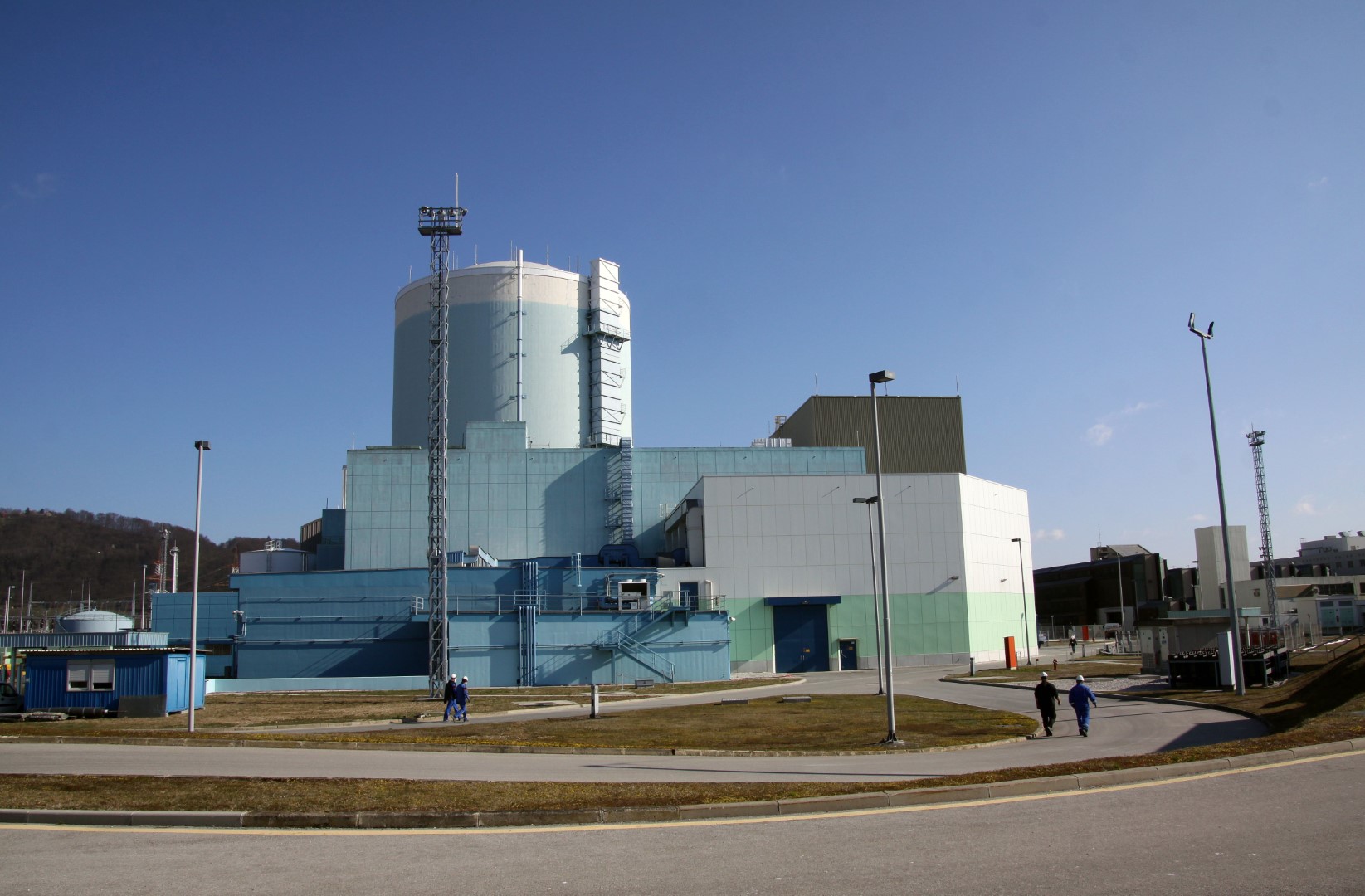 A maintenance and refuelling outage is under way at the Krško Nuclear Power Plant in Slovenia, operating company NEK has announced. All overhaul works, involving some 45,000 activities, is expected to last a month, are managed and supervised by NEK employees in cooperation with external contractors from Slovenia and Croatia and contractors of specific works in the nuclear industry from the international environment, NEK said. More than 2,100 people enter the plant every day and more than 1,500 people work there during peak hours.
The Krško plant, a 696MWe Westinghouse pressurised water reactor, is jointly owned by Slovenia and Croatia, both of which were parts of the former Yugoslavia when Krško began operation in 1981. It supplies some 40% of Slovenia's. An inter-state agreement regulates the status and other legal relationships related to investment in the NPP, its exploitation and decommissioning, as well as a Company Agreement between GEN energija and HEP (Croatian Elektroprivreda). It is organised as a limited liability company.
During the shutdown, all 121 fuel elements, which have been in place since the last overhaul in 2021, will be moved to a pool in the fuel handling building, where they will be inspected. This will be followed by filling the core for the next fuel cycle, where 56 fuel elements will be replaced with fresh ones.
Other technological updates are underway, NEK said, among them the replacement of the high-pressure turbine, which is part of the secondary system of the power plant and is the last original component on the turbine-generator-exciter shaft. One of the more prominent activities during this shift was the lifting and removal of the 60-ton rotor. Over 40 years, it performed 28 billion operations and contributed to the production of more than 200GWe. The turbine replacement will increase Krsko's power output by 10-12MWe.
The overhaul is also preparing Krško for a periodic safety assessment planned for next year with the aim of extending its operating life for a further 10 years to 2033. NEK is also considering an additional 10 years of operation to 2043. An environmental impact assessment for this has already been submitted to the Ministry of the Environment and Spatial Planning.
Krško is a Westinghouse pressurised water reactor located on the Sava River. It is unusual in being jointly owned by two countries: Slovenia, where it is located, and Croatia, both of which were parts of the former Yugoslavia when Krško came online in 1981. It supplies as much as 40% of Slovenia's electricity and has operated reliably, having three times completed uninterrupted runs of 500 days of power generation including immediately before this outage.
Before the outage, an International Atomic Energy Agency (IAEA) Emergency Preparedness Review (EPREV) team of experts concluded a five-day follow-up mission to review the emergency preparedness and response framework for nuclear and radiological emergencies in Slovenia. The review was requested by the Slovenian Government and hosted by the Slovenian Nuclear Safety Administration (SNSA) and the Administration for Civil Protection and Disaster Relief (ACPDR).
The team observed a commitment at all levels to emergency preparedness and noted that Slovenia has made significant progress in developing and revising emergency arrangements since an initial EPREV mission in 2017. This full scope mission in 2017 found a sustained commitment to emergency preparedness and response (EPR) by all response organisations in Slovenia but highlighted the need to further strengthen coordination between all response organizations to ensure integrated planning.
As well as the Krško NPP, Slovenia has a TRIGA research reactor and a Central Interim Storage for Radioactive Waste, both located at the Podgorica Reactor Centreand uses ionising radiation for industrial, medical and research purposes.
David Nodwell, former Director of Emergency Management at the Ontario, Canada Office of the Fire Marshal and Emergency Management, led the six-person review team, which included experts from Bulgaria, Ireland, the Netherlands, Spain and one IAEA staff member.
"We commend the responsiveness of Slovenia and tremendous amount of work done since the initial review, particularly given that much of this progress was accomplished during the COVID-19 pandemic," Nodwell said. "Especially noteworthy is the development of the national protection strategy, the amendments to the relevant national regulations and the draft National Emergency Plan. Slovenia has also upgraded their training programme, exercises and procedures for public communication."
The EPREV team identified several strengths during the mission, including:
The National Emergency Response Plan was comprehensively reviewed and updated with the involvement of all relevant stakeholders in a coordinated manner.
The national protection strategy is closely aligned with IAEA safety standards.
The Radiation Monitoring Programme has been enhanced to support the implementation of the national protection strategy.
Exercise and training programmes were further developed and are being conducted.
The team also made suggestions to further strengthen EPR arrangements, including:
Finalising arrangements for the termination of an emergency.
Amending emergency plans of response organisations at all levels to align with the revised National Emergency Response Plan.
Coordination and integration of safety and security aspects of the response to a nuclear emergency.
Implementing a comprehensive quality management programme in all emergency response organisations.
"Among the activities undertaken to address the recommendations from the initial EPREV mission in 2017, the most important one was the endorsement of the national protection strategy for nuclear and radiological emergencies," said Igor Sirc, Director of the Slovenian Nuclear Safety Administration. "Efforts to implement the recommendations of the initial mission, culminating in the EPREV follow-up mission this year, have strengthened the emergency preparedness and response arrangements in Slovenia."
---
Image: Krško nuclear power plant (courtesy of NEK)