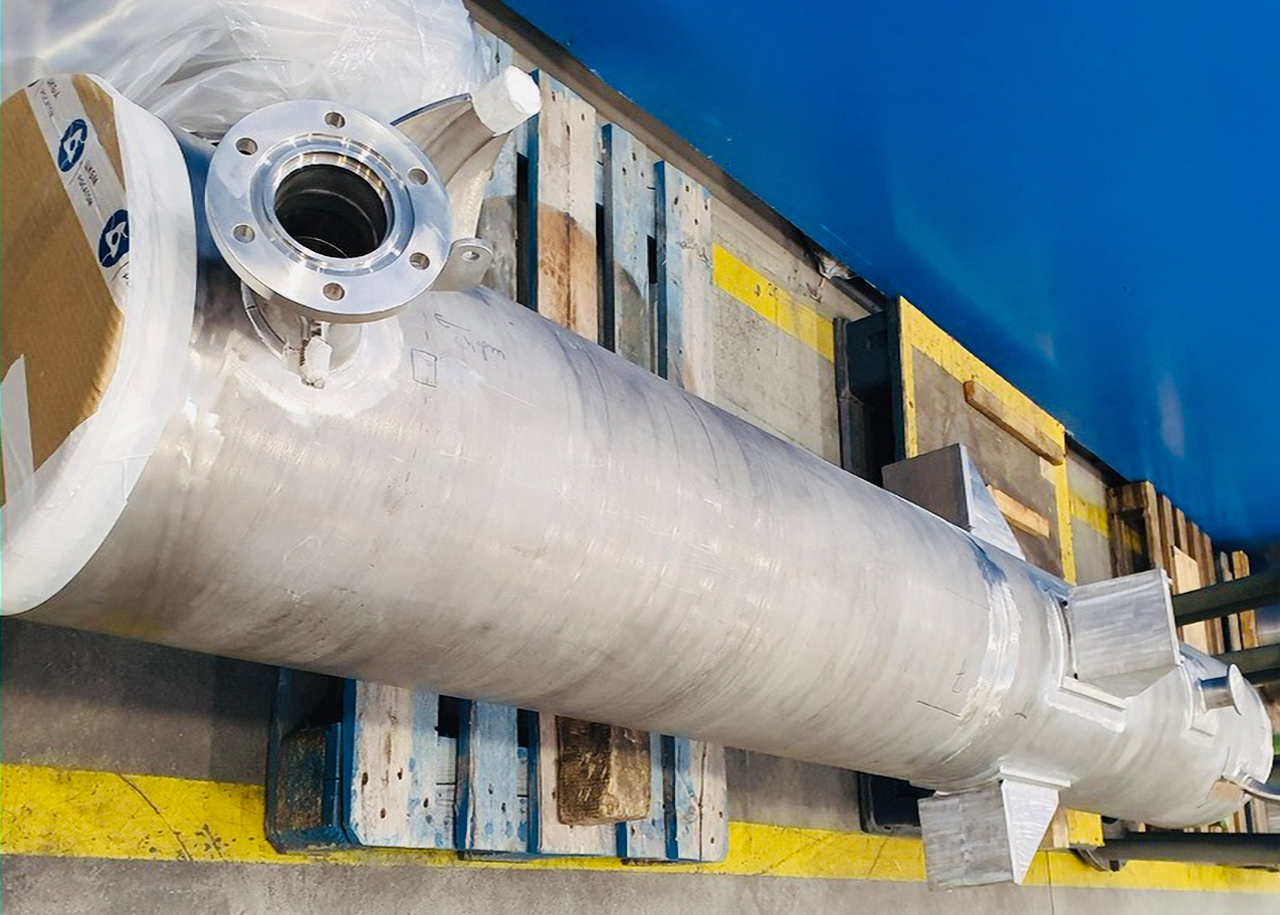 Russia's TsKBM (part of Rosatom's mechanical engineering division Atomenergomash) has manufactured and shipped four zeolite filters for unit 3 of the Xudabao NPP in China. Zeolite filters are part of the NPP gas cleaning system. They are designed for deep drying of the gas flow, which then enters the next stages of purification. The mineral zeolite is used as an adsorbent. One power unit requires four zeolite filters - two main and two standby.
The zeolite filter is made of stainless steel and is a hollow cylindrical vessel 3.5 metres long with a diameter of 0.4 metres. A coil is located inside the body; it is necessary for cooling the zeolite, which heats up during adsorption. The weight of one filter (without filler) is 350 kg. Each filter contains 340 litres of zeolite adsorbent. Drying of the adsorbent takes place by means of a gas sweep heated to 420 °C. The service life of the filter is 60 years.
Zeolite filters are a new product for TsKBM, the design documentation for these products was developed by the company's engineers in 2021. The first four filters were shipped in March 2023 to unit 7 of China's Tianwan NPP.
Russia and China in 2018 signed agreements for the construction of two VVER-1200 reactors as units 7&8 of the Tianwan NPP in Jiangsu province and two VVER-1200 units for Xudabao (units 3&4). The following year a general contract for the construction of Xudabao 3&4 was signed along with a contract for the supply of nuclear fuel. Rosatom would design the nuclear island and supply key equipment, as well as providing field supervision. China would provide turbine generators and balance of plant. Construction of unit 3 began in July 2021 and unit 4 in May 2022. The units are expected to be commissioned in 2027-2028.
---
Image: One of the four zeolite filters shipped to China for installation at unit 3 of the Xudabao NPP (courtesy of Rosatom)