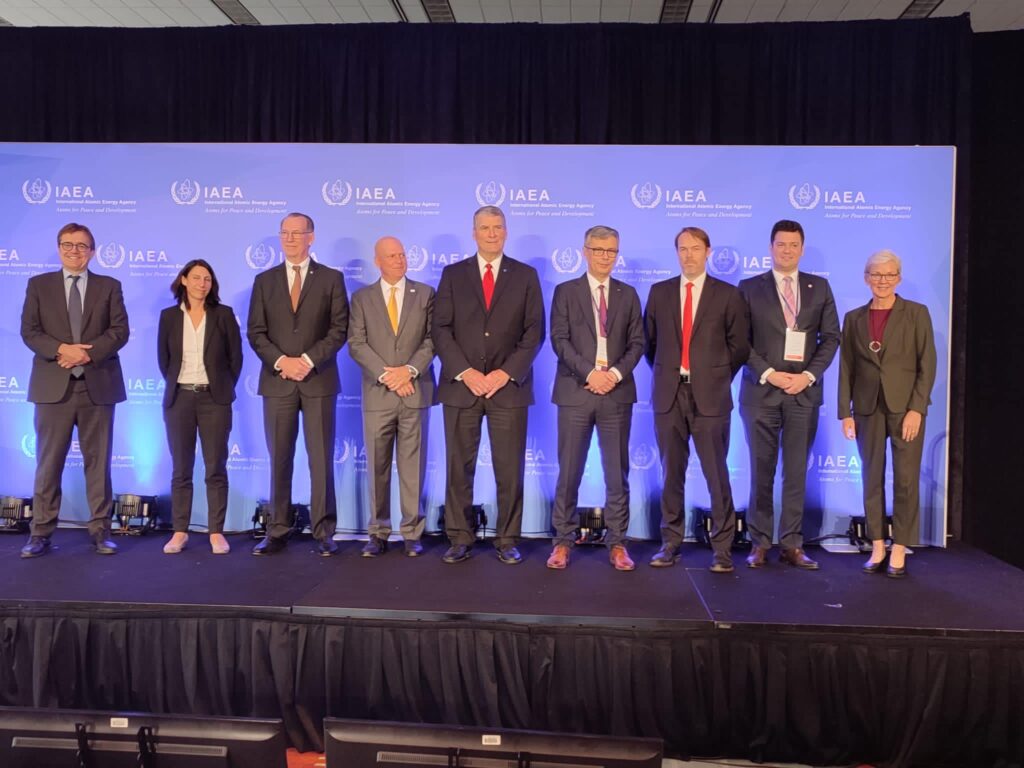 Romanian Energy Minister Virgil Popescu has secured a series of commitments of support for Romania's nuclear power programme - primarily from the USA and Canada - following multiple meetings in Washington, where he was attending the IAEA's International Ministerial Conference for Nuclear Energy in the 21st Century.
On 25 October he announced that four companies - Fluor Corporation (USA), Sargent & Lundy (USA), SNC Lavalin (Canada) and Framatome (France) - had agreed to explore cooperation opportunities in the civil nuclear field with nuclear utility Nuclearelectrica (SNN) for the development of both conventional and advanced reactors.
Romania has ongoing programmes to upgrade its existing Candu reactors at Cernavoda NPP, as well as to construct two new units and to develop small modular reactors (SMRs). Nuclearelectrica plans to extend the operating life of Cernavoda 1 until 2026 following planned refurbishment from 2027 to 2029, which is estimated to cost €1.85 billion ($1.85bn). Unit 2 is due for refurbishment in 2037.
Nuclearelectrica also aims to complete two partly-built Canadian Candu units (Cernavoda 3&4) and initial work on this with Candu Energy (part of SNC Lavalin) and Sargeant & Lundy started in November 2021, with the aim of launching unit 3 in 2031. In addition, Nuclearelectrica signed a memorandum of understanding with NuScale in 2019 to study the possible development of SMRs. An inter-governmental agreement between Romania and the USA followed in 2020 and an expression of interest from the US Exim Bank to provide up to $7 billion.
Popescu worked hard during the conference to progress these plans.
On 27 October he said he "had a very good working meeting" with US Deputy Secretary for Energy David Turk to discuss the projects included in the inter-governmental agreement related to Cernavoda and the wider civil nuclear energy sector in Romania. According to Popescu, Turk said that the Department of Energy (DOE) "is analysing the possibility of involvement in financing the construction of reactors 3 and 4 at Cernavoda, in addition to the financial support we will also have from EximBank". He added that the SMR project had also been discussed.
The same day he attended the contract signing ceremony in which the US Trade and Development Agency (USTDA) awarded a $14 million grant to RoPower Nuclear, the reactor development project company for SMRs recently established by Nuclear Power and E-Infra. The grant will be used for the preliminary engineering and design study (FEED) to advance the development of the first SMR in Romania. Also present were USTDA Director Enoh T Ebong, Assistant Secretary at DOE's Office of Nuclear Energy Dr Kathryn Huff, President and CEO of NuScale Power John Hopkins, and SNN CEO Cosmin Ghita. "The preliminary study will include key development elements of the project, such as a site configuration plan, a budget estimate and an execution plan for the environmental impact analysis", Popescu said on his Facebook page. "The FEED study continues the recently-completed $1.2 million USTDA study, which identified suitable locations, technology options and a roadmap for licensing for the SMR project."
The following day he had another working meeting with Joe St Julian, President of SNC-Lavalin Nuclear, to discuss Cernavoda 3&4. The SNC-Lavalin delegation also included Executive Vice President William Fox, Senior Vice President of Marketing and Business Development Carl Marcotte, and Vice President of Government Relations & Multilateral Development Institutions Marketing, Strategy & External Relations Sam Boutziouvis. Cosmin Ghita also took part in the discussions.
On 29 October Popescu said he had a business appointment with Jose W Fernandez, US Under Secretary for Economic Growth, Energy and the Environment, to discuss Cernavoda and the civil nuclear energy sector in Romania. "We discussed the financing for the refurbishment of reactor 1 and the construction of reactors 3 and 4 at Cernavoda, and the strengthening of the strategic partnership in the field of energy and also commercial and bilateral relations between the two states." He added that he had "received assurance of full support from the USA for the development of Romania's civil nuclear programme and to ensure the security of Romania and Moldova's natural gas supplies".
---
Image: Romanian Energy Minister Virgil Popescu (fourth from right) secured a series of commitments of support for Romania's nuclear power programme at the IAEA's Ministerial Conference for Nuclear Energy in the 21st Century (courtesy of Virgil Popescu/Twitter)