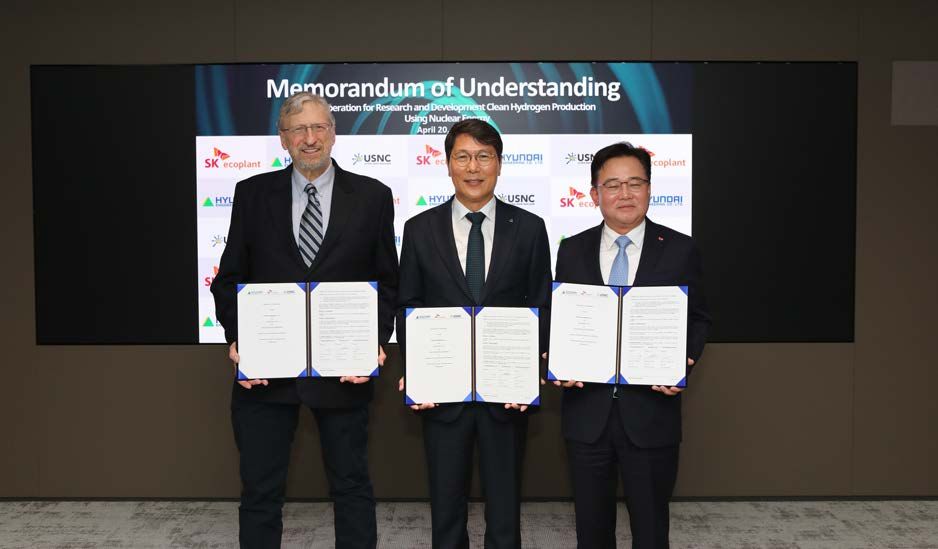 US-based Ultra Safe Nuclear Corporation (USNC) has signed a memorandum of understanding (MOU) with South Korea's Hyundai Engineering and SK Ecoplant to conduct R&D on clean hydrogen production. The three companies intend to construct a Hydrogen Micro Hub at the SK Ecoplant's headquarters in Seoul's Jongno-gu.
The Hydrogen Micro Hub will produce hydrogen based on a high-temperature electrolysis process of solid oxide electrolysis cells (SOEC) using the electricity and high-temperature steam generated by USNC's Micro-Modular Reactor (MMR). The companies will jointly conduct research and development on the MMR-SOEC integrated plant for the next five years. They will investigate the establishment of a competitive hydrogen production system, and support R&D and verification for future hydrogen production and supply businesses.
Hyundai Engineering will oversee the MMR-related balance of plant (BOP) and design, procurement, and construction (EPC) tasks and USNC will be responsible for MMR design, manufacturing, and supply. SK Ecoplant will establish a nuclear power-based hydrogen production system using Bloom Energy's SOEC and will also supply hydrogen production equipment.
USNC's MMR is a high-temperature gas-cooled reactor (HTGR) with a thermal capacity of 15 MW and an electrical capacity of 5 MW comprising two plants – nuclear plant that generates heat for an adjacent power plant that converts it into electricity or provides process heat for industrial applications. USNC says the system is designed to be simple, with minimal operation and maintenance requirements, and no on-site fuel storage, handling or processing. It will have a sealed transportable core and is designed to use TRISO fuel in prismatic graphite blocks, also produced by USNC. in Canada, USNC is collaborating with Ontario Power Generation for construction of an MMR at the Atomic Energy of Canada Limited's Chalk River Laboratories campus in Ontario, where the project is at an advanced licensing stage.
SK Ecoplant has successfully tested hydrogen production through electrolysis using a 130 kW-scale SOEC facility located at the Bloom SK Fuel Cell manufacturing plant in Gumi, Gyeongsangbuk-do, in cooperation with Bloom Energy and Bloom SK Fuel Cell. It is also participating in a government-led green hydrogen production demonstration project and is pursuing a project to convert green hydrogen into ammonia or methanol. SK Ecoplant is also diversifying its "zero carbon emission hydrogen production model" to include pink hydrogen, produced by electrolysis using electricity from nuclear power generation.
SK Ecoplant CEO Kyung-il said, "SOEC is a good partner that can take advantage of MMR's advantages by operating at high temperatures and producing high-efficiency hydrogen with minimal energy consumption." Francesco Venneri, CEO of USNC, said the Hydrogen Micro Hub "is an efficient and economical hydrogen production plant that can produce hydrogen on a scale required at the local site".
---
Image (L-R): Francesco Venneri, CEO, USNC; Hong Hyun-seong, CEO, Hyundai Engineering; and Park Kyung-il, CEO, SK ecoplant, following the signing ceremony (courtesy of USNC)