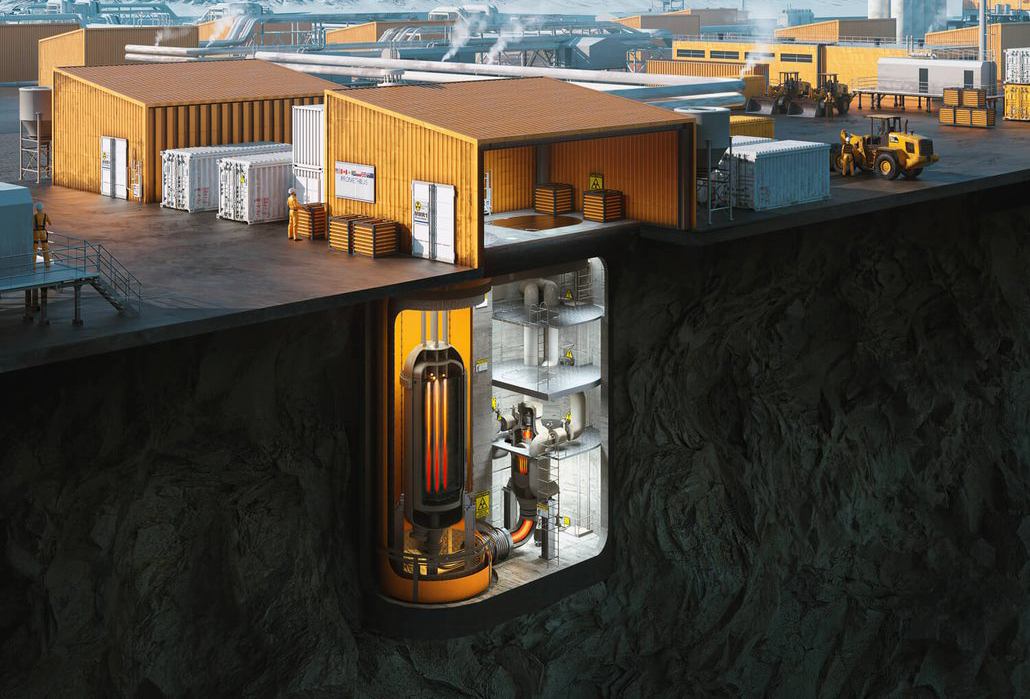 US-based Ultra Safe Nuclear Corporation (USNC) has announced the addition of key UK personnel to its team supporting the Advanced Modular Reactor (AMR) Research, Development & Demonstration (RD&D) programme funded by the UK Department for Business, Energy & Industrial Strategy (BEIS). USNC says it is taking advantage of the recent availability of personnel from the U-Battery Team. Earlier in March, Urenco withdrew its support for the U-Battery advanced modular reactor (AMR) project saying it had "exhausted its attempts to secure the commitment of new commercial investors".
USNC said the addition of the U-Battery personnel "effectively doubles the size of its UK Team (USNC-UK Ltd) underscoring the global importance of the AMR programme and supporting and augmenting the UK expertise needed to realise the programme's benefits as intended by the UK Government".
USNC-UK is building on USNC's Micro-Modular Reactor (MMR) design to develop an advanced MMR design "that will be best suited to the UK's industrial process heat and power needs". The MMR-III will be a high-power version of USNC's MMR, capable of producing 750°C heat and specifically designed to be utilised in multi-unit "nuclear battery packs" at industrial sites.
USNC's MMR is a high-temperature gas-cooled reactor (HTGR) with a thermal capacity of 15 MW and an electrical capacity of 5 MW comprising two plants – a nuclear plant that generates heat for an adjacent power plant that converts it into electricity or provides process heat for industrial applications. USNC says the system is designed to be simple, with minimal operation and maintenance requirements, and no on-site fuel storage, handling or processing. It will have a sealed transportable core and is designed to use TRISO fuel in prismatic graphite blocks, also produced by USNC. The company has been developing its MMR and proprietary Fully Ceramic Micro-Encapsulated (FCM) Fuel since 2011.
UNSC says the MMR-III "aligns particularly well with emerging demands in the UK and globally for hydrogen and sustainable aviation fuel (SAF) production". The use FCM fuel, helium coolant and the large heat storage unit "will deliver unmatched safety, simplicity and flexibility of use, while ensuring the heat generation and heat utilisation systems remain clean in all circumstances".
"This is a great opportunity to move forward for the talented experts on the team in the face of an otherwise challenging situation," said Professor Tim Abram, former Head of Engineering & Design Authority for the U-Battery project, who is joining the USNC-UK team. "We are proud of the contributions made to HTGR technology in the UK by the U-Battery project, and the team are looking forward to carrying on their mission with Ultra Safe Nuclear."
USNC CEO Francesco Venneri said the UK "is a must-have market, the ideal launch pad for the global deployment of our industrial-grade high-temperature nuclear batteries". He added that the UK "has deep roots in the relevant gas-cooled nuclear reactor technologies, exemplified by the current AGR reactors and tracing back to Dragon, the very first helium-cooled high-temperature reactor utilising TRISO fuel. We are tapping into these roots by adding the best, most experienced and motivated UK talent to our team".
In Canada, USNC is collaborating with Ontario Power Generation for construction of an MMR at the Atomic Energy of Canada Limited's Chalk River Laboratories campus in Ontario, where the project is at an advanced licensing stage. MMR projects are also underway at the University of Illinois Urbana-Champaign in the USA and at McMaster University in Canada. USNC also signed an MOU in December 2022 with Canadian privately held investment firm Portland Holdings Investco, which is to invest up to $350m in UNSC to promote MMR technology in the Middle East and North Africa (MENA) and the Caribbean regions.
At the beginning of March, Urenco USA (UUSA) signed an enrichment services supply agreement with USNC as part of the fuel supply programme for USNC's MMR. USNC will purchase enriched uranium product from UUSA for use in the manufacture of Tri-structural Isotropic (TRISO) particles and FCM fuel via USNC's planned joint venture with Framatome in USA.
---
Image: Cross-section of USNC's micro modular reactor unit (courtesy of USNC)