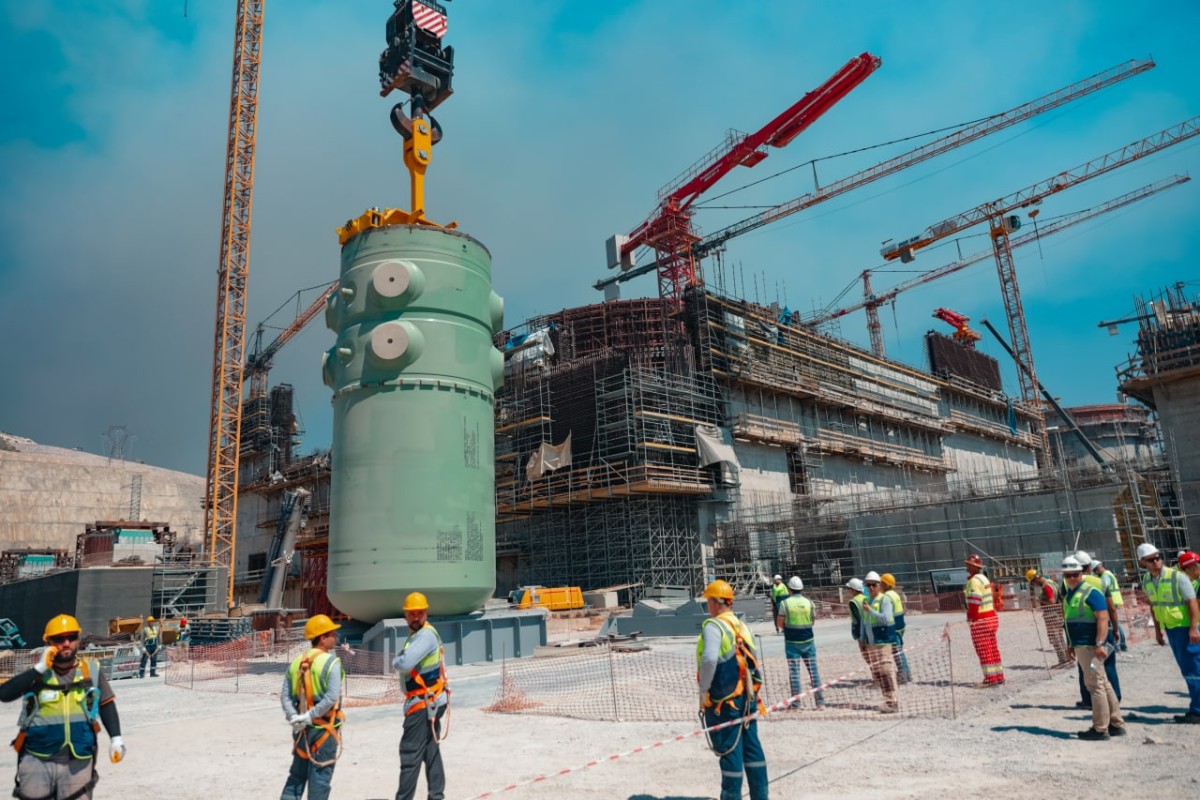 Rosatom has installed the VVER-1200 reactor vessel at unit 2 of the Akkuyu NPP, project company Akkuyu Nukleer have announced.
Before installation the reactor pressure vessel (RPV), delivered to the site by sea at the end of December 2021, was transported from the equipment temporary storage site, where it passed the incoming inspection procedure, to the installation site. Using a Liebherr LR 13,000 crawler crane, the RPV was installed in its design position in the reactor shaft. The assembly operation took about six hours.
Rosatom previously completed the lining of the reactor shaft. The lining is a metal structure located in the inner hermetic shell of the reactor plant. It is designed to strengthen concrete surfaces - improve sealing and ensure resistance to potential loads during operation and refuelling. The reactor lining is made of special stainless steel containing chromium and nickel. Its service life is 100 years.
Installation of the reactor shaft lining - metal structures weighing more than 16 tons, 9.1 metres high and 8 metres in diameter – was also carried out using a Liebherr LR 13000 heavy crawler crane. After the installation the reactor shaft is reinforced and concreted. The lining was manufactured at the Rosatom's Atomspetsservice enterprise in Volgodonsk and sent by sea to the Vostochny marine terminal on the territory of the site and moved to the installation area using a special trawl. The lining is a non-removable formwork involved in sealing the reactor shaft. It is part of the pool where refuelling will take place.
"Installation of the reactor vessel of unit 2 is one of the main events of this year," said Sergey Butskikh, First Deputy General Director of Akkuyu Nukleer and Director of the Akkuyu NPP under construction. "I want to note the impeccable work of the installation team and lifting equipment operators. Mounting the housing requires exceptional precision: the maximum allowable horizontal deviation is a tenth of a millimetre." He added that work at the Akkuyu NPP site "is being carried out around the clock",
Previously at unit 2 a "melt trap" was installed, the support and thrust trusses were concreted, dry protection and thermal insulation of the cylindrical part of the RPV were installed. Immediately before the installation of the RPV, a support ring was mounted, which bears the main weight load of the vessel.
The inspection control of the installation of the reactor vessel was carried out by a commission consisting of specialists from the reactor vessel manufacturer, an independent inspection organisation and the Turkish Nuclear Regulatory Agency (NDK).
---
Image: Installation of the VVER-1200 reactor vessel at unit 2 of the Akkuyu NPP (courtesy of Akkuyu Nukleer)