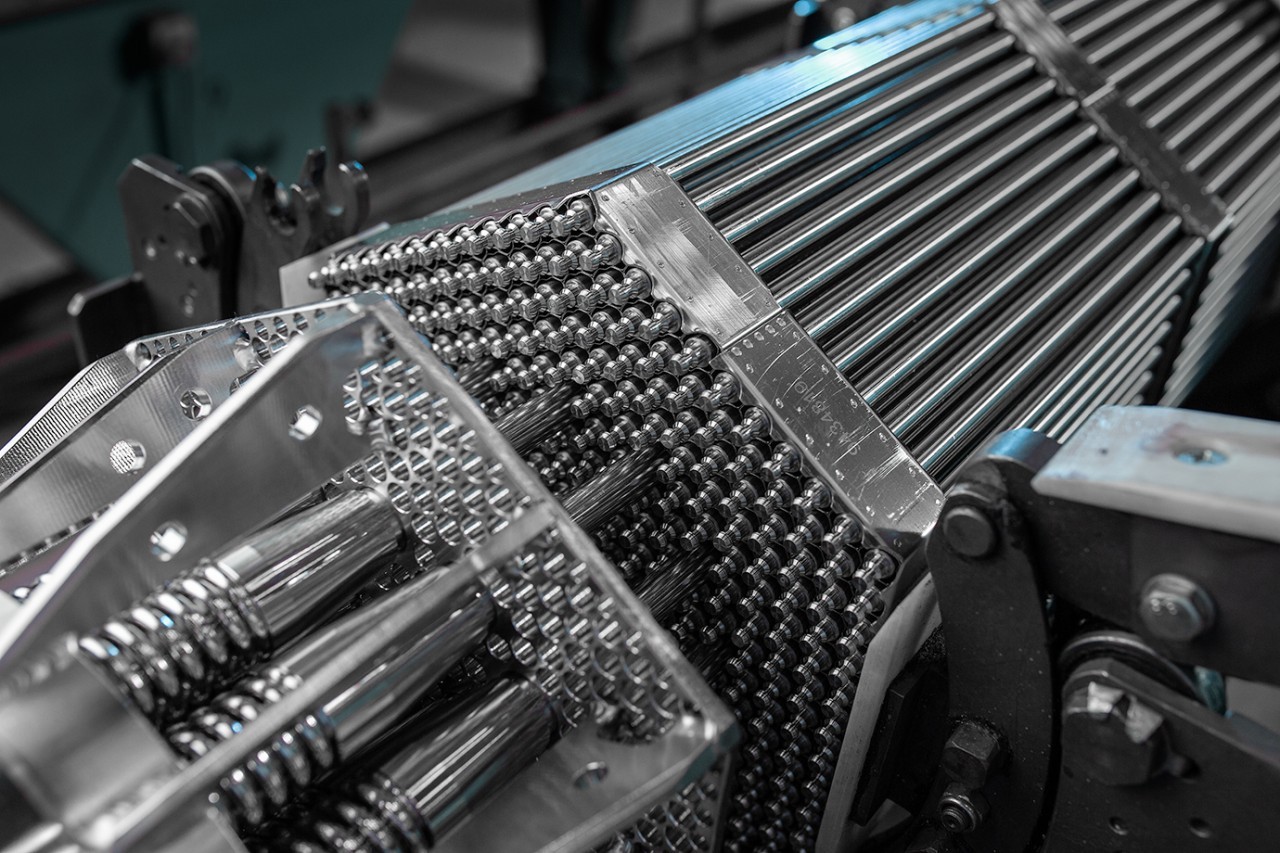 Pilot industrial operation of new nuclear fuel for VVER-1000 reactors with a second-generation anti-debris filter ADF-2 has been completed at unit 1 of Russia's Rostov NPP. A pilot batch of 12 TVS-2M fuel cassettes with anti-debris filters of an improved design was loaded into the reactor core in 2018. It has now successfully completed the full operating cycle for VVER-1000 fuel assemblies.
During the scheduled repair outage of the Rostov 1 an inspection was carried out of all 12 TVS-2M fuel assemblies with ADF-2, which had undergone three fuel campaigns lasting 18 months each, explained Andrey Gorbunov, chief engineer at the Rostov NPP. "The inspection results confirmed compliance with the positive criteria established by the programme for pilot-industrial operation of TVS-2M with an anti-debris filter," he said.
A new generation anti-debris filter was developed by order of Rosatom fuel company TVEL at the Podolsk facility of OKB Gidropress (part of Rosatom's mechanical engineering division Atomenergomash) together with the Novosibirsk Chemical Concentrates Plant (part of TVEL). This was within the framework of an international project on Zero Nuclear Fuel Failure.
The task of ADF-2 is to protect the structure of fuel assemblies and fuel rods from debris damage associated with the entry of foreign elements into the reactor core. An analysis of statistical data based on the results of a study of irradiated fuel assemblies showed that cases of fuel depressurisation that occurred were associated primarily with mechanical damage from foreign objects during operation in the reactor.
Potential depressurisation of fuel rods with enriched uranium negatively affects the economic efficiency of nuclear power units, as the damaged fuel assemblies have to be removed from the reactor ahead of schedule before the completion of the full operating cycle.
Optimisation of the anti-debris filter design has improved its performance characteristics. The first generation filter resembled a grate with small holes, which ensures filtration of the coolant. ADF-2 consists of many plate elements that allow filtering out smaller particles that have entered the coolant.
"The successful completion of pilot operation of ADF-2 opens the way for the use of a new generation filter in all fuel assemblies at Russian power units with VVER-1000 and VVER-1200 reactors," said Alexander Ugryumov, Senior Vice President for Scientific & Technical Activities at TVEL. "This will make their operation even more stable in terms of a guaranteed level of economic efficiency and radiation safety."
In Russia, TVS-2M nuclear fuel is being supplied to eight VVER-1000 power units at the Rostov and Balakovo NPPs. A similar design of TVS-2M nuclear fuel with a second-generation ADF-2filter is also being supplied to India's Kudankulam NPP.
---
Image courtesy of Rosatom