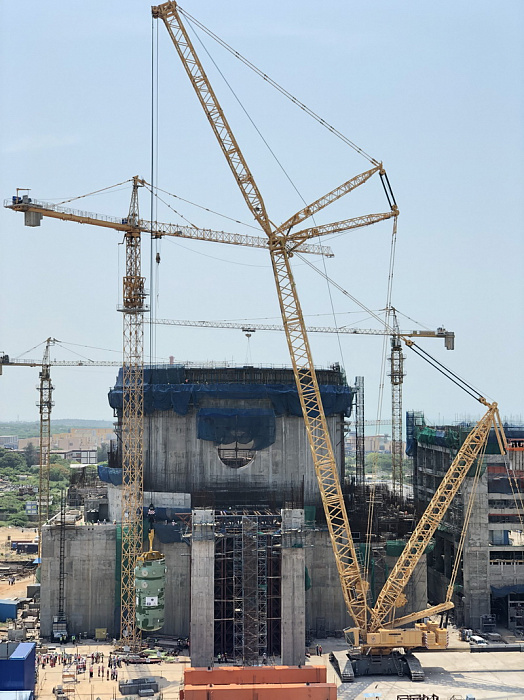 All reactor plant equipment has been installed at unit 3 of India's Kudankulam NPP in Tamil Nadu using the open top method, Rosatom has said. The first time this technique was used at Kudankulam NPP was to install the reactor vessel at unit 3. Installation of steam generators, main circulation pumps, main circulation pipelines and pressure compensator have been completed using this method.
"This technology is aimed at reducing risks and reducing the installation time of equipment. A preliminary analysis showed that the "open method" saves 5-7 months. The equipment is fed directly through the open top of the cylindrical part of the reactor building, which reduces the number of operations performed," said Andrey Lebedev, Vice President of JSC ASE for projects in India. Work is also underway on the installation of thermal and electrical equipment.
Based on an intergovernmental agreement between India and Russia signed in 1988, Nuclear Power Corporation of India Limited is building four VVER-1000 units (3-6) at Kudankulam. The expected completion dates for units 3&4 are in 2023. Kudankulam 1 and 2 – also VVER-1000 units built with Russian assistance - began commercial operation in December 2014 and April 2017.
---
Image: Reactor equipment is installed at unit 3 of the Kudankulam NPP before the containment dome is put in place (Image: Rosatom)