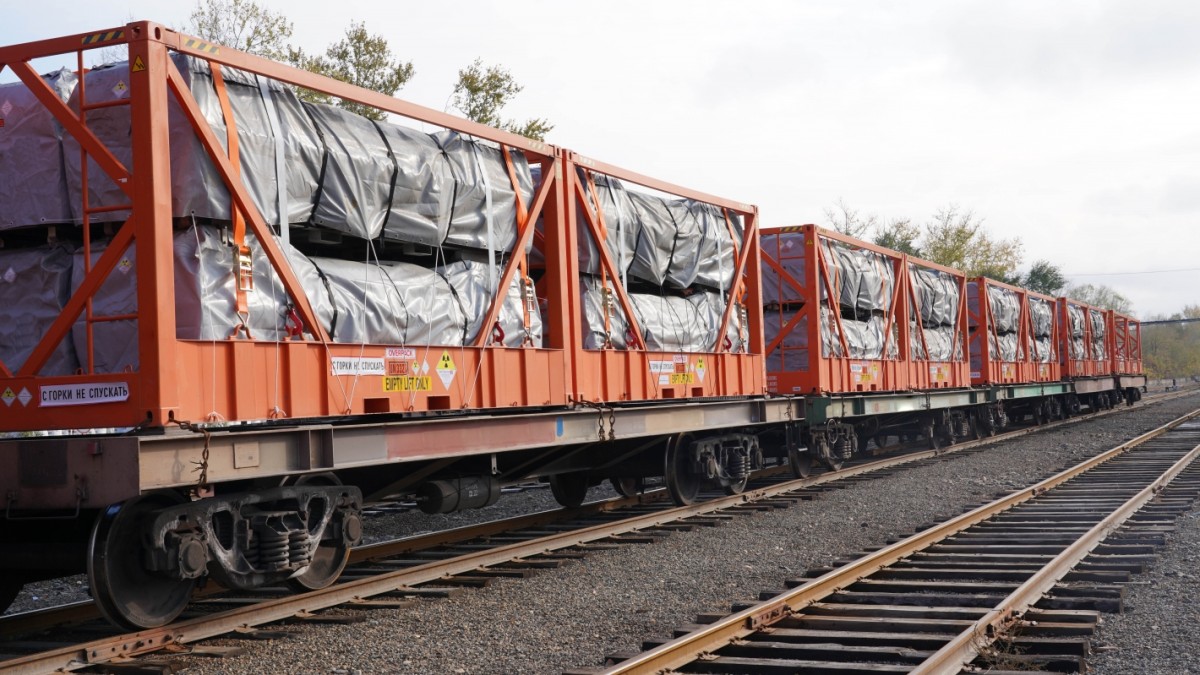 Kazakhstan's National Atomic Company Kazatomprom has delivered the first batch of AFA 3G TM fuel assemblies to China by rail from the Ulba-TVS LLP plant. Trains comprising 34 shipping containers with the fuel assemblies, accompanied by a special security service, were delivered to NPPs in China. The deliver was equivalent to one reactor reload (slightly more than 30 tonnes of low-enriched uranium). It was formally accepted by China General Nuclear Power Corporation (CGNPC).
Kazakhstan's Ulba Metallurgical Plant (UMZ) produces uranium, beryllium, tantalum and niobium for the nuclear, electronics industry, metallurgy and other industries. The company is part of Kazatomprom. Ulba-TVS LLP is a Kazakh-Chinese joint venture in which UMZ owns 51% and CGNPC-URC owns 49%.
Ulba-TVS LLP began operations in November 2021 after obtaining qualifications from the French company Framatome, the owner of the technology for the production of the AFA 3G FA type fuel assemblies. The plant, which is the only manufacturer of nuclear fuel in Kazakhstan, has a design capacity of 200 tons of low-enriched uranium fuel a year and a guaranteed sales market for the next 20 years.
The uranium for the assemblies is mined in Kazakhstan and processed at the Ulba Metallurgical Plant. "The Ulba-TVS LLP plant has allowed Kazatomprom to diversify production, expand its network and produce high-tech, export-oriented uranium products with high added value," says Kazatomprom Board Chairman Yerzhan Mukanov.
"The first shipment of finished products marked the beginning of regular deliveries of nuclear fuel, which is very important not only for our enterprises, but also for the development of the peaceful nuclear industry in Kazakhstan and China," said UMZ Board Chairman Sergey Bezhetsky.
Ulba-TVS LLP General Director Arman Suleimenov said the well-coordinated work of the team of employees at Ulba-TVS LLP, UMZ and URC-Logistics with the participation of representatives of the end customer helped to realise this historic event."
Kazatomprom is the world's largest uranium producer, accounting for about 24% of global primary uranium production in 2021. The company has the largest reserve base in the industry and, through its subsidiaries, joint ventures and associations, operates 26 deposits in Kazakhstan, which are part of 14 mining assets. All of the company's mining operations are located in Kazakhstan and mine uranium using in-situ leaching technology.
---
Image: The containers of fresh fuel were transported by rail (courtesy of Kazatomprom)