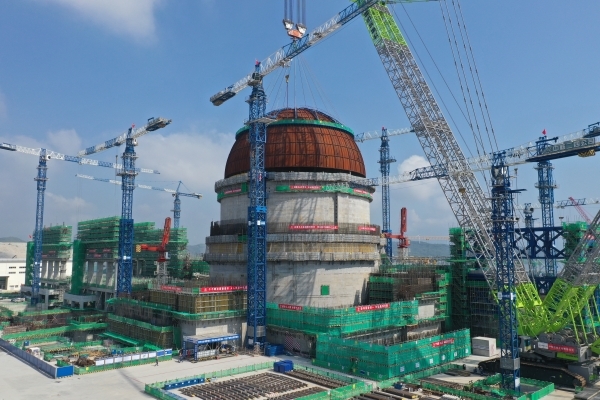 The inner dome for unit 2 of China's Zhangzhou NPP has been installed ahead of schedule using the open top method, according to China National Nuclear Corporation (CNNC). This set a new record for the shortest construction period for dome installation and signals a move from the civil construction to equipment installation. This followed installation earlier in August of the reactor pressure vessel and three steam generators at the unit.
At Zhangzhou NPP, two Chinese-designed Hualong One reactors are under construction. China's Ministry of Ecology and Environment issued construction licences for Zhangzhou 1&2 in 2019 to CNNC-Guodian Zhangzhou Energy Company, the owner of the Zhangzhou NPP, which was established in 2011. It is owned by CNNC (51%) and China Guodian Corporation (49%). The licences are valid for 10 years. The units are scheduled to begin commercial operation in 2024 and 2025.
The lifting of the inner dome is an important milestone in the construction of Hualong One reactor, CNNC noted. The dome is located on the top of the nuclear island. Its main function is to ensure the integrity and sealing of the reactor building, and it plays a key role in radioactive containment.
The 260-ton steel dome - measuring 45 metres in diameter and almost 14 metres in height was lifted by crane and placed on top of the walls of the double containment structure. An outer dome will be installed over the inner one. CNNC said its installation represented a 24-day reduction in the construction period compared with the same operation at unit 1.
---
Image: The inner dome of the reactor building of Zhangzhou 2 is hoisted into place (courtesy of CNNC)