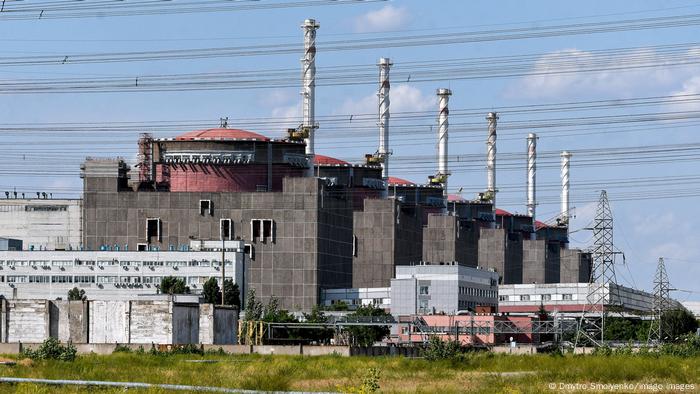 International Atomic Energy Agency (IAEA) Director General Rafael Mariano Grossi has issued a statement expressing concern about the situation at Ukraine's Zaporizhzhia NPP, which has suffered shelling. He said it "underlines the very real risk of a nuclear disaster that could threaten public health and the environment in Ukraine and beyond". He added: "The IAEA has received information about this serious situation – the latest in a long line of increasingly alarming reports from all sides."
According to Ukrainian sources, there has been no damage to the reactors themselves and no radiological release. However, there is damage elsewhere on the site. "Military action jeopardising the safety and security of the Zaporizhzhia NPP is completely unacceptable and must be avoided at all costs," Grossi said. "Any military firepower directed at or from the facility would amount to playing with fire, with potentially catastrophic consequences. I strongly and urgently appeal to all parties to exercise the utmost restraint in the vicinity of this important nuclear facility, with its six reactors. And I condemn any violent acts carried out at or near the Zaporizhzhia NPP or against its staff."
He stressed: "This must stop and stop now. In order to help prevent the situation from spiralling even more out of control, the IAEA's presence to provide technical support for nuclear safety and security is of paramount importance." He added: "And for the last four months now, I have been ready to lead a mission of IAEA safety, security and safeguards experts to the country's biggest nuclear power plant, Zaporizhzhia." This would enable the delivery of nuclear safety and security equipment that is urgently needed and would allow IAEA safeguards inspectors to conduct essential verification activities at the plant.
"We would also provide impartial and independent information about the status of the Zaporizhzhia facility," Grossi noted. "That this vital mission has not yet happened is not because of the IAEA. Despite our determined efforts, it has not been possible, so far. I will not give up. I will continue to push – and push again – for this IAEA mission to finally take place. But this will need the cooperation, understanding and facilitation from both Ukraine and Russia."
In a later update IAEA said Ukraine had informed the IAEA that the shelling had damaged the plant's external power supply system but that two power lines remained operational. It had also triggered the emergency protection system of one of the plant's three operating reactors. This unit was disconnected from the grid as a result.
Ukraine also informed the IAEA that there had been no damage to the reactors themselves, no radiological release and no reports of injuries. However, it said a nitrogen-oxygen station, which supports plant operations, and an auxiliary building were damaged. Firefighters had quickly extinguished a fire at the nitrogen-oxygen station, but it still needs to be repaired, Ukraine said. The IAEA has also received information about shelling near the used fuel storage facility.
IAEA said that on 6 August, two of the ZNPP's six units were operating and the radiation situation was normal, according to Ukraine. Grossi said IAEA experts had made a preliminary assessment that the current nuclear safety and security situation at the ZNPP seemed stable, with no immediate threat to nuclear safety.
Reuters said on 5 August that Russia and Ukraine had accused each other of shelling ZNPP. Russia's defence ministry said it was only by luck that a radiation accident had been avoided after what it described as an artillery barrage. Ukrainian President Volodymyr Zelenskiy said Moscow was responsible and accused it of committing "an open, brazen crime, an act of terror".
The Russian defence ministry said the generating capacity of one unit had been reduced and power supply to another had been cut. In addition, the nearby city of Energodar, where most of the plant operators live, had power and water supply problems, it said.
"Fortunately, the Ukrainian shells did not hit the oil and fuel facility and the oxygen plant nearby, thus avoiding a larger fire and a possible radiation accident," a ministry statement said. The Russian-installed administration of Energodar said power lines at the plant had been cut by a Ukrainian artillery strike. Reuters said it was unable to verify the battlefield reports.
Energodar and ZNPP were taken over by Russian troops in early March. However, the facility continues to be run by its Ukrainian technicians. Reportedly some specialists from Russia's Rosatom are also at the plant. Russia has said on several occasions that it would facilitate an IAEA visit. However, Ukraine's nuclear utility Energoatom has repeatedly refused to permit this. Further shelling of the NPP were reported by both sides on 7 August.