Ghana's Nuclear Regulatory Auth
ority (NRA) on behalf of the Government of Ghana welcomed Christopher T Hanson, Chairman of the US Nuclear Regulatory Commission (NRC), and his team on a two-day working visit based on a bilateral arrangement for cooperation and the exchange of technical information signed in 2017.
As part of the visit, NRA Director-General Dr Nii Kwashie Allotey, accompanies the NRA-NRC delegation to meetings with Dr Kwaku Afriyie, the Minister for Environment, Science, Technology & Innovation and William Owuraku-Aidoo, a Deputy Minister for Energy. These meetings provided an opportunity to discuss the significant strides made in radiological regulation and nuclear safety and regulation and explored opportunities for further strengthening the bilateral relationship. They also visited some of the Laboratories of the Ghana Atomic Energy Commission, as well as the University of Ghana Medical Centre, a licensee of the NRA.
"Establishing a strong and transparent regulatory framework based on high safety standards is a critical step toward the adoption of nuclear technologies. We have a longstanding partnership with Ghana's regulator, and we welcome our continued collaboration as
NRA progresses in establishing a regulatory structure," said Hanson Allotey said: "We greatly value the NRC's expertise as we seek to develop Ghana's own strong, independent regulatory oversight programme. International partnerships such as this provide a solid foundation for the NRA's oversight programmes, which will protect people and the environment and align with international standards and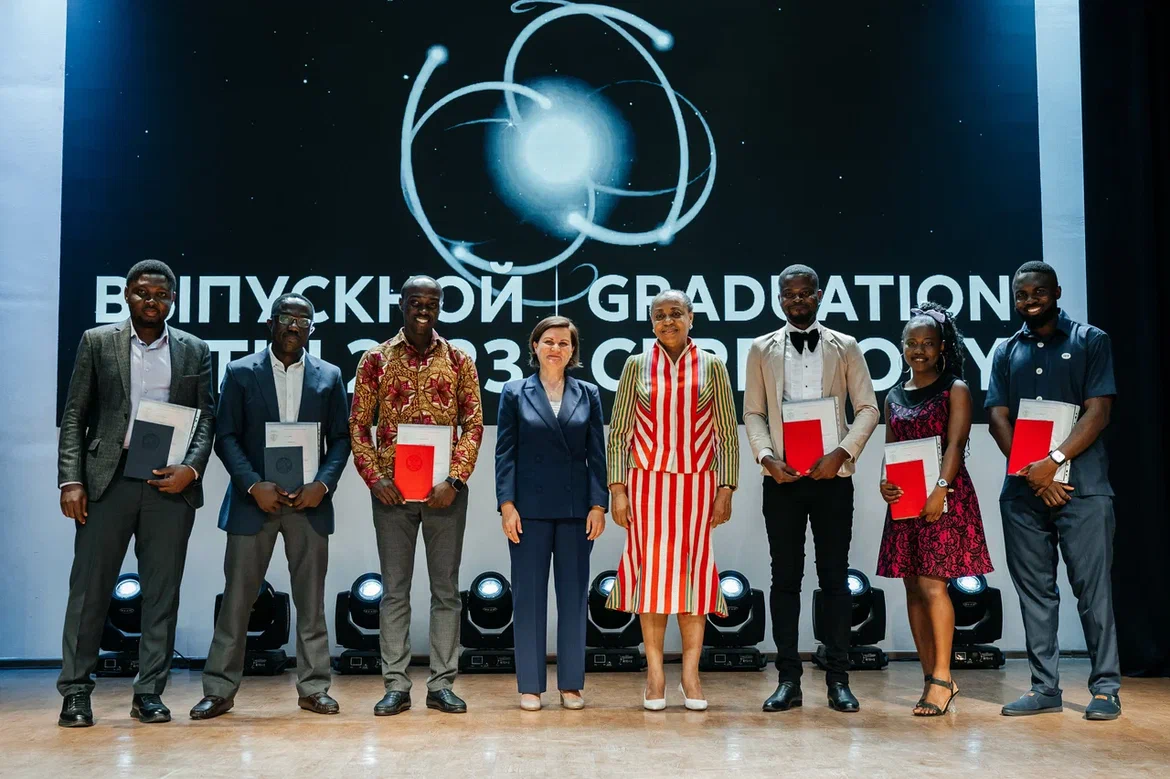 obligations."
Meanwhile the Ambassador of Ghana in Russia, Lesley Akua Akyaa Opoku-Ware, attended a graduation ceremony for foreign nuclear graduates at the Tomsk Polytechnic University (TPU). "It is gratifying to see that so many talented young people have gathered here today, it is gratifying to see that the fate of the world will be in safe hands, especially now, when we hear a lot about the development of nuclear energy. It is also gratifying that graduates from Tomsk, a city where people come from all over the world, will take part in the development of technologies in the future."
During her visit to TPU, she attended a round table bringing together for students from Ghana studying at TPU, Tomsk State University and the Siberian State Medical University. She also met with the university administration and visited the educational and scientific laboratories of the School of Nuclear Technology Engineering.
---
Image (top): Hanson Allotey, left, and Christopher Hanson (courtesy of NRC)
Image (right): Lesley Akua Akyaa Opoku-Ware attends a graduation ceremony for foreign nuclear graduates at the Tomsk Polytechnic University