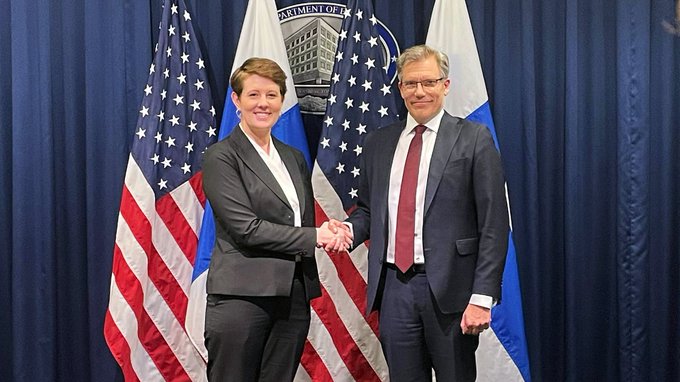 Finland's Ministry of Economic Affairs & Employment and the US Department of Energy (DOE) have signed a memorandum of understanding (MOU) on nuclear energy and nuclear waste management. "Its purpose is to intensify cooperation between administrations, companies and research institutes in Finland and the US concerning the peaceful use of nuclear power," the Finnish Ministry said. The MOU was signed by the Ministry's Director General, Riku Huttunen, and Dr Kathryn Huff, Assistant Secretary at the DOE's Office of Nuclear Energy.
This followed discussions at the Global Clean Energy Action Forum in Pittsburgh in September 2022 between Finnish Minister of Economic Affairs Mika Lintilä and US Special Presidential Envoy for Climate and former Secretary of State John Kerry.
Huttunen said the MOU provides a good basis for developing a partnership in the field of nuclear energy. "It is an important tool for strengthening the networks between administrations, companies and research organisations, as well as enabling closer commercial and investment links between our countries," he noted.
The MOU emphasises closer cooperation in nuclear energy technologies, nuclear waste management and final disposal of radioactive waste, new types of nuclear reactors such as small modular reactors (SMRs), nuclear safety and nuclear fuels.
While the development of SMRs in Finland "requires international cooperation", Finland "is a global leader in nuclear waste management and the final disposal of spent nuclear fuel". Cooperation "could focus on research, development and innovation, projects, development of skills, expertise and workforce, fuel supply and best practices and lessons learned in engaging the public in nuclear technology, clean energy and placement of nuclear installations".
The Finnish Embassy in the US said on its Facebook page that "policymakers & experts will examine innovative nuclear technologies, such as SMR's, and resolve hurdles in fuel supplies & spent fuel management". It added that Finland and the USA "are also exploring a separate MOU on fusion energy".
---
Image: Dr Kathryn Huff, Assistant Secretary at the DOE's Office of Nuclear Energy and Director General of Ministry of Economic Affairs & Employment, Riku Huttunen (courtesy of Ministry of Economic Affairs & Employment)