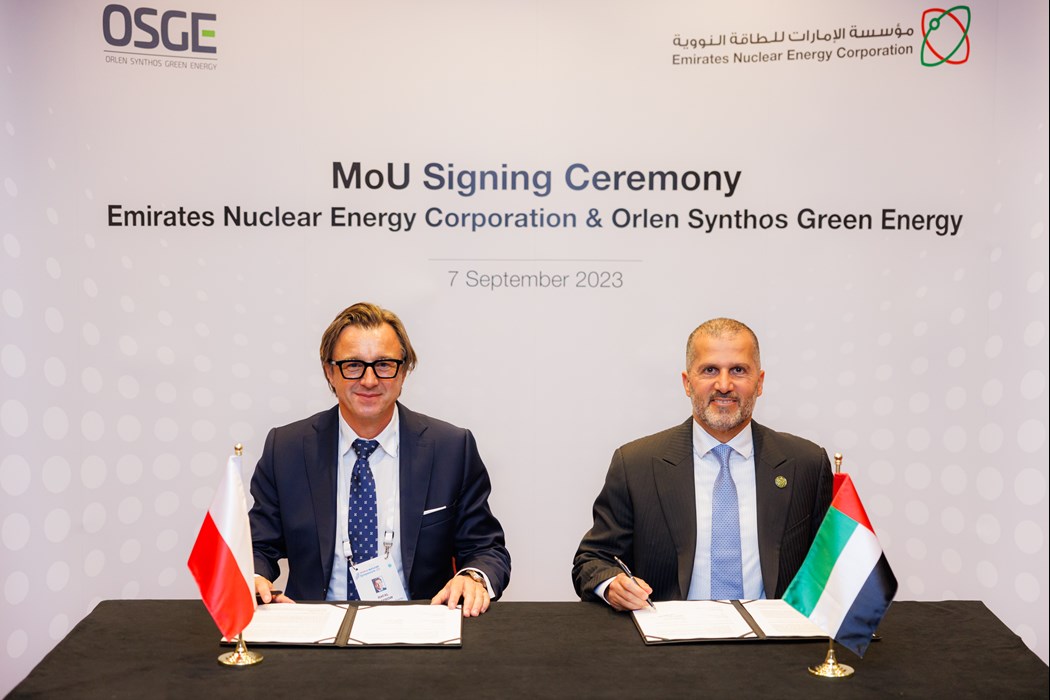 The UAE's Emirates Nuclear Energy Corporation (ENEC) and Poland's Orlen Synthos Green Energy (OSGE) have signed a Memorandum of Understanding (MOU) to co-operate in the development small modular reactors (SMRs). The MOU aims to provide an enabling framework for developing SMRs based on GE-Hitachi Nuclear Energy's BWRX-300 SMR technology in Poland and the UK, as well as within Central and Eastern Europe. ENEC and OSGE will work together to identify specific areas of mutual cooperation.
ENEC will share the experience learned from the development of the Barakah Plant, its experience in building operational readiness, and stakeholder management, including building commercial frameworks with technology vendors and other contractors. OSGE seeks to build a nuclear organization that can meet energy sector challenges, by the increased use of advanced nuclear technologies, such as fourth generation SMRs.
The agreement was signed by ENEC Managing Director & CEO Mohamed Ibrahim Al Hammadi and OSGE CEO Rafal Kasprów, during the World Nuclear Symposium 2023 in London. Al Hammadi said the MOU "sets the stage for our plans to accelerate nuclear adoption globally and lend our expertise in advancing the clean energy transition towards achieving Net Zero". He added that development of the Barakah NPP in the UAE "is a catalyst for innovation and R&D in new areas, including SMRs which, we are currently exploring as part of our future growth opportunities, alongside other next-generation technologies".
Kasprów said partnership with ENEC was a milestone for OSGE. "ENEC brings unique experience in building nuclear power plants in accordance with the highest nuclear industry safety and quality standards, delivering projects on time and on budget. Furthermore, I am pleased that ENEC recognises the development of SMR's as important for the future of nuclear energy. I truly believe that thanks to this cooperation, we are taking a significant step forward in the development of SMR's worldwide."
Construction of the UAE's Barakah NPP began in 2011. Korea Electric Power Company (Kepco) led the consortium that is building the plant comprising four APR1400 reactors. Unit 1 was connected to the grid in 2020, followed by unit 2 in 2021. Unit 1 began commercial operation in April 2021 and unit 2 in March 2022. Unit 3 was connected to the grid in October 2022 and unit 4 completed hot functional testing in July 2022 in preparation for commercial operation. Once all four units are operating, they will contribute up to 25% of the UAE's National Determined Contributions to Net Zero and be the largest source of dispatchable clean electricity.
OSGE aims to play an important role in Poland's decarbonisation plans and seeks to deploy the first SMR in Poland before the end of the decade, with subsequent units planned for the 2030s. OSGE as a partner of GE-Hitachi, has exclusive rights to deploy BWRX-300 technology in Poland. OSGE is also collaborating with Canada's Ontario Power Generation (OPG) and the US Tennessee Authority Valley (TVA), both of which have also selected BWRX-300 technology.
The BWRX-300 is a 300 MWe water-cooled, natural circulation SMR with passive safety systems that leverages the design and licensing basis of GEH's ESBWR which has US Nuclear Regulatory Commission certification. As a result of design simplification, GEH claims the BWRX-300 will require significantly less capital cost per MW compared with other SMR designs. GEH says the BWRX-300 is being designed to reduce construction and operating costs below other nuclear power generation technologies. It will leverage a combination of existing fuel, plant simplifications, proven components as well as a design based on an already licensed reactor.
OSGE said the example set by the UAE and ENEC's investment in Barakah proves that by selecting the right partners and relying on the knowledge and skills of highly specialised staff, a nuclear project can be successfully completed. ENEC's experience will be an important element supporting the development of OSGE's SMR project. ENEC will share the lessons learned from the construction and development of the Barakah power plant and its achievements in creating operational readiness, managing contacts and communication with stakeholders, including building commercial agreements with technology suppliers and other contractors.
---
Image: OSGE CEO Rafal Kasprów (L) and ENEC Managing Director & CEO Mohamed Ibrahim Al Hammadi (R) at the signing ceremony (courtesy of