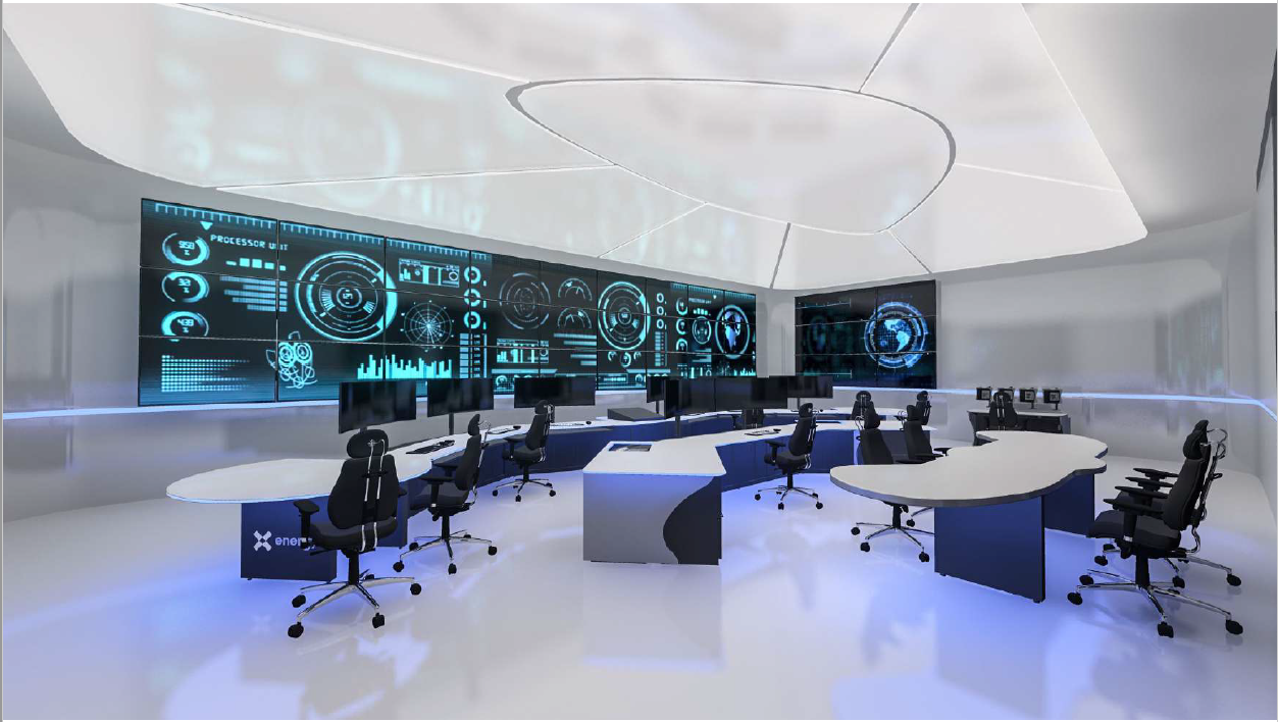 US-based X-Energy Reactor Company plans to open its first Xe-100 reactor fleet management, monitoring, and training facility in Frederick, Maryland. This Plant Support Centre-East (PSCE) is seen as the first step in X-energy's Commercial Operations Services business. It will support the initial deployment of SMRs.
X-energy CEO J Clay Sell said the centre "is just the starting point of our advanced nuclear reactor fleet support strategy and a significant part of X-energy's business growth". He added: "Modernising and centralising fleet services will help drive the cost-competitiveness of our Xe-100 technology as well as establish the potential for a sustainable, long-term business that generates consistent and recurring revenue for X-energy."
The PSCE is intended to support training and operations for that plant, as well as subsequent owners and operators of the first Xe-100 plants. X-energy says that, as the Xe-100 fleet grows, regional centres will be expanded to provide support services to Xe-100 owners and operators. These will offer business services in areas such as plant diagnostics, maintenance planning, outage scheduling, supply chains, human resources, and regulatory compliance.
This builds on more than two years of work in partnership with the US Department of Energy's (DOE's) Advanced Research Projects Agency–Energy (ARPA-E) and the US Electric Power Research Institute (EPRI). This work aims to develop an innovative "digital-twin" maintenance lab and a US-based, continuous fleet monitoring and diagnostics initiative. In 2020, DOE selected X-energy to receive up to $1.2bn of federal cost-shared funding to develop, license, build, and demonstrate operational advanced reactors by the end of the decade.
The PSCE will comprise a high-fidelity main control room simulator that integrates real-time plant instrumentation and control systems with X-energy's 3-D virtual reality environment. X-energy says it is combining this technology with artificial intelligence and machine learning into a suite of proprietary tools called Xe-100 Data Analytics Tools & Applications (X-DATA). This aims to improve reliability as well as reduce predictive and preventative maintenance costs for X-energy's customers.
The Xe-100 is a high-temperature gas reactor with a thermal output of 200 MWt or an electrical output of 80 MWe. It is one of two designs selected by DOE in 2020 to receive $80m each of initial cost-shared funding to build an advanced reactor demonstration plant that can be operational within seven years. The Xe-100 evolved from both the UK's Dragon reactor at Winfrith in Dorset and the Pebble Bed Modular Reactor project in South Africa.
It will use TRIstructural ISOtropic (TRISO) fuel comprising three layers of carbon and ceramic materials that surround kernels or balls of high-assay low-enriched uranium (HALEU) fuel. DOE says TRISO is "the most robust nuclear fuel on earth". Since 2016, X-energy subsidiary TRISO-X has operated a pilot-scale nuclear fuel fabrication facility (TF3) at the Oak Ridge National Laboratory (ORNL) to further develop its TRISO-X fuel and support the Xe-100 reactor.
X-energy, which expects its first reactor to be operational in 2028, recently announced plans to install its first Xe-100 at one of Dow's US Gulf Coast sites. The first commercial deployment of the Xe-100 had previously been expected to be a four-unit plant near Energy Northwest's Columbia NPP in Washington. Energy Northwest CEO Bob Schuetz said the company remains committed to deploying an advanced SMR in Washington state by the end of the decade, and that the Xe-100 is its preferred technology.
Energy Northwest noted that it does not have the "significant development capital" to initiate the project without a committed off-taker, compared with a company such as Dow. However, working collaboratively with Dow "will put us in a strong position to gain the commitments necessary to take the next steps to build an Xe-100 in central Washington," the company said, adding "our focus is on securing project financing, and we have identified several viable pathways to successfully execute this project".
He added: "As X-energy demonstrates its technology alongside Dow as part of ARDP, we will support and learn from their work to optimise, deliver, and develop future projects together. Working collaboratively to deploy multiple advanced reactors in a short timeframe will be beneficial to both Dow and Energy Northwest, as well as to the entire advanced nuclear industry."
---
Image: The PSCE will support training and operations and will be based around a simulator of the SMR main control room (courtesy of X-energy)