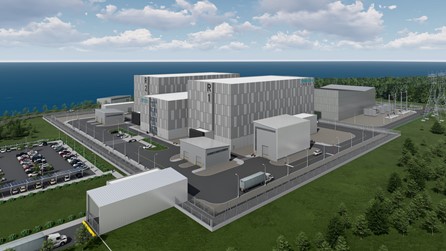 X-energy Canada and the Saskatchewan Industrial and Mining Suppliers Association (SIMSA) have signed a memorandum of understanding (MOU) to support the potential deployment of Xe-100 small modular reactors (SMRs). Under this agreement, the two parties will explore opportunities to build supply chain capacity in Saskatchewan, helping the province capitalise on the potential benefits of the Xe-100 Generation IV nuclear reactor technology.
Katherine Moshonas Cole, President, X-energy Canada, said: "Saskatchewan's industrial and mining supply chain has immense capability, which can be utilized and expanded to support the forthcoming SMR industry. From the start, X-energy has been committed to early engagement with local industry to ensure their inclusion in our projects."
SIMSA represents more than 300 member companies in Saskatchewan, from the manufacturing, construction, engineering, mining, and energy sectors. The association's proprietary Saskatchewan Supplier Database (SSD) is used by major resource companies as a key localisation tool. Together, X-energy and SIMSA will leverage the tools and resources, such as the SSD, to maximise local supplier participation in the Xe-100's potential deployment in Saskatchewan.
"In Saskatchewan, there's a significant market for SMRs that presents exciting opportunities for the local supply chain," said Eric Anderson, Executive Director, SIMSA. "The Xe-100 reactor's ability to support high temperature industrial operations is an ideal solution for the decarbonisation of heavy industry, a sector which our members work hard each and every day to support. Combined with the Xe-100's potential to add value to the helium and fuel supply chains, we believe this MOU serves to position SIMSA membership to seize the opportunities presented by the potential deployment of the Xe-100 technology in our province, across Canada and further."
The Xe-100 is a high temperature gas-cooled reactor. The Generation IV technology is scalable to meet demand, with one unit generating up to 80MWe from 200MWt. Efficiently combining high-temperature 565 Celsius steam and power production, the Xe-100 can directly support heavy industry including oil sands operations, mining applications, and other industrial processes.
X-energy and Ontario Power Generation (OPG) announced a collaboration to pursue clean energy opportunities that will reduce heavy industry carbon emissions. Under the agreement, X-energy and OPG will pursue opportunities to deploy Xe-100 advanced reactors in Ontario at industrial sites and identify further opportunities throughout Canada.
X-energy is in the final stages of the Canadian Nuclear Safety Commission's Pre-Licensing Vendor Design Review (VDR), an optional process that aims to determine a new nuclear power plant design compatibility with Canadian nuclear regulatory standards and requirements.
In 2021, the US Department of Energy selected the Xe-100 for the Advanced Reactor Demonstration Program, appropriating nearly $1.2 billion to support the delivery of a four-reactor Xe-100 plant in the USA as early as 2028.