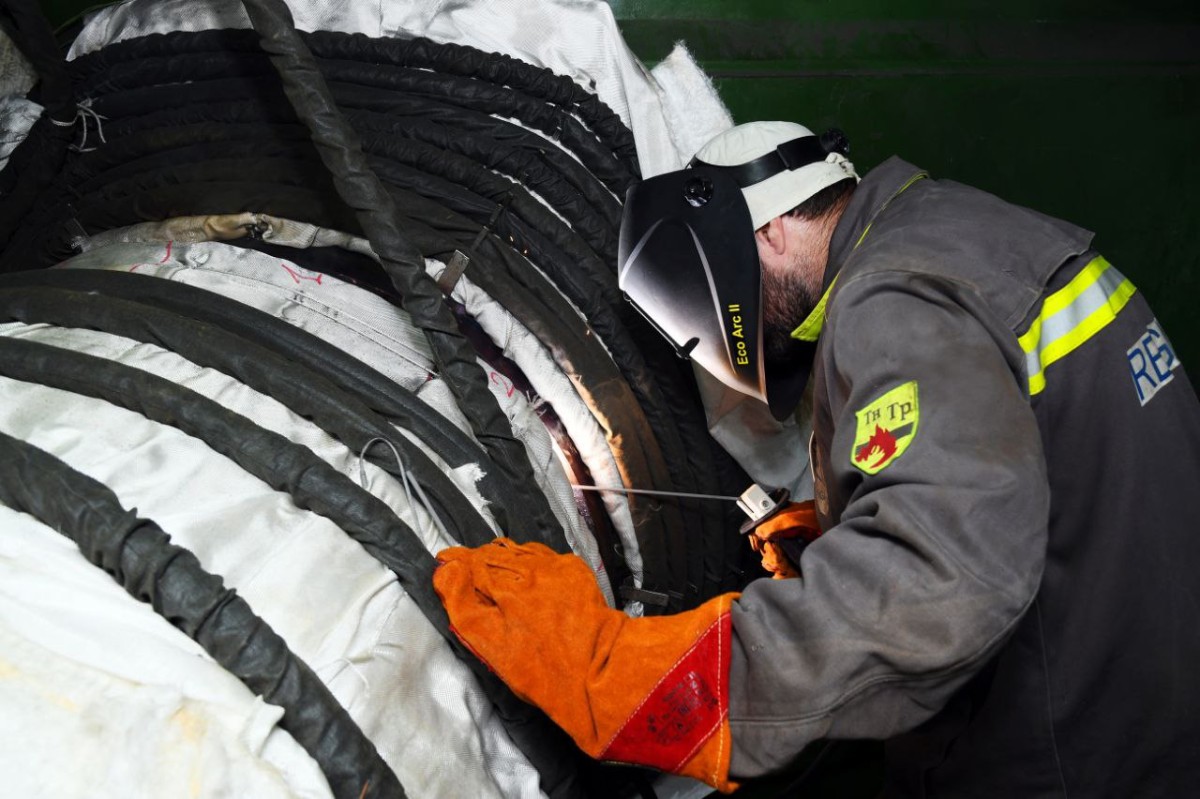 Rosatom has completed welding of the main circulation pipeline at the first power unit of Kursk NPP-2 in record time.
Welding of the pearlite part of the main circulation pipeline (MCP) at unit 1 of Russia's Kursk-II NPP was completed on 25 October. The welding and heat treatment of all welded joints was completed in 55 days instead of the 80 scheduled, which is an absolute record for this operation. The MCP has a diameter of 850 millimetres, a wall thickness of 70 millimetres and a length of more than 140 metres. It connects the main equipment of the primary circuit: the reactor, steam generators and main circulation pumps. MCP welding is one of the most complex and critical stages of construction and installation work at a power unit. The pipeline carries the water heated in the reactor to the steam generators, from where the steam goes to the turbine to generates electricity.
"Very stringent requirements are imposed on the welded joints of the MCC," said Andrey Osharin, Acting Director of Kursk NPP. "As part of the welding work, the specialists of the general contractor and the customer carried out step-by-step control of all operations performed: visual, measuring, radiographic, capillary and ultrasonic. But despite the rapid pace of the work, the quality of the welds met all the requirements."
Specialists of Energospetsmontazh JSC were involved in the work, with 24 welders and 24 installers around the clock, replacing each other, performing welding and cleaning of welded seams.
"In accordance with the directive schedule, MCP welding should be completed within 80 days," said Mikhail Pinchuk, General Director of Energospetsmontazh, JSC. "However, because all the most effective improvement proposals previously implemented during MCP welding at the Novovoronezh-II units, the Belarus NPP and the Rooppur NPP were included in the project for the production of work at the Kursk station, we managed to significantly reduce the time. In addition, highly qualified specialists of 5-6 categories, who already have successful experience in performing these works at other NPPs, took part in implementation of the project."
Oleg Shperle, Vice President of JSC ASE and Director of the project for the construction of the Kursk NPP said: "From the point of view of the technology for performing construction and installation work, the completion of welding of the MCP makes it possible to begin installation of security systems and other technological systems that adjoin them.
Kursk-II 1&2 are being built according to the VVER-TOI project (standard optimised informatised pressurised water power reactor), which is a development of the VVER-1200 reactor design with increased capacity and improved technical and economic indicators. Kursk II is being built near the village of Makarovka in the Kurchatov district of the Kursk region as a replacement station for the currently operating Kursk NPP, which comprises four RBMK reactors. The commissioning of unit 1 is scheduled for the end of 2025.