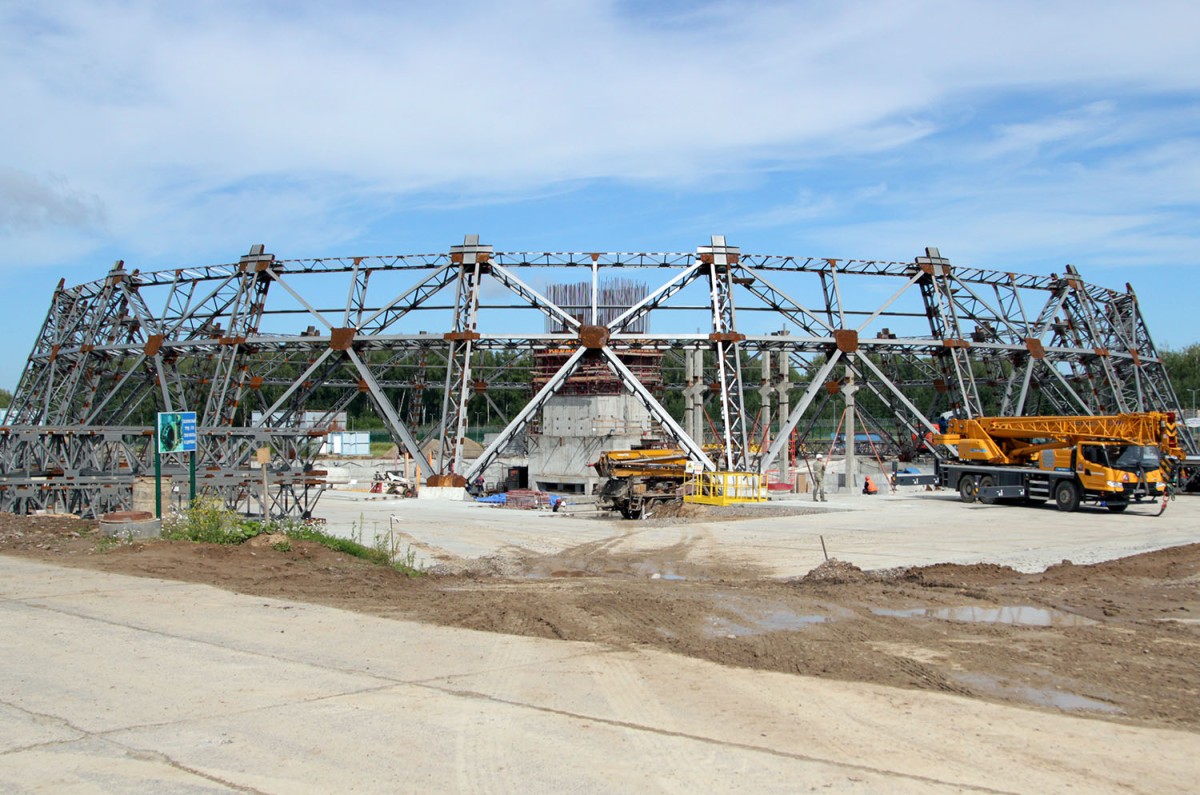 Rosatom has installed the first tier of an evaporative cooling tower for the Brest-OD-300 reactor under construction at the Siberian Chemical Combine (SCC) in Seversk, part of the pilot demonstration power complex (ODEK) being built as part of the Proryv (Breakthrough) project. According to Rosatom's fuel company, TVEL, the installation of metal structures for the first tier of the evaporative cooling tower for Brest reactor had been completed.
In total, about 1,000 tons of metal structures will be installed for the construction of the cooling tower, which has a height of 80 metres and a diameter at the base of 79.5 metres. The lower tier has been installed on the foundation and the welded joints are being treated with anti-corrosion paint. The metal structures will then be covered with a double layer of corrugated aluminium sheets. For the second tier of the cooling tower, fully prepared mounting marks will be installed that have been machined, painted and clad with aluminium.
The cooling tower irrigation area is 4000 square metres. The tower is designed to cool a large amount of water using a directed flow of atmospheric air. After being cooled and cleaned by circulating pumps, the water will be supplied to the turbine hall of the power unit. Construction and installation work at the cooling tower is scheduled to be completed by September 2023 for commissioning in June 2025.
Since 2011, SCC has been implementing the Proryv project to demonstrate closed fuel cycle technology. ODEK will include three unique facilities: a module for fabrication and refabrication of uranium-plutonium nuclear fuel, a 300 MWe Brest-300 lead-cooled fast reactor, and a module for reprocessing and recycling irradiated fuel.
---
Image: Construction of the first tier of the 80m high cooling tower for the Brest-OD-300 reactor in Seversk (photo courtesy of TVEL)