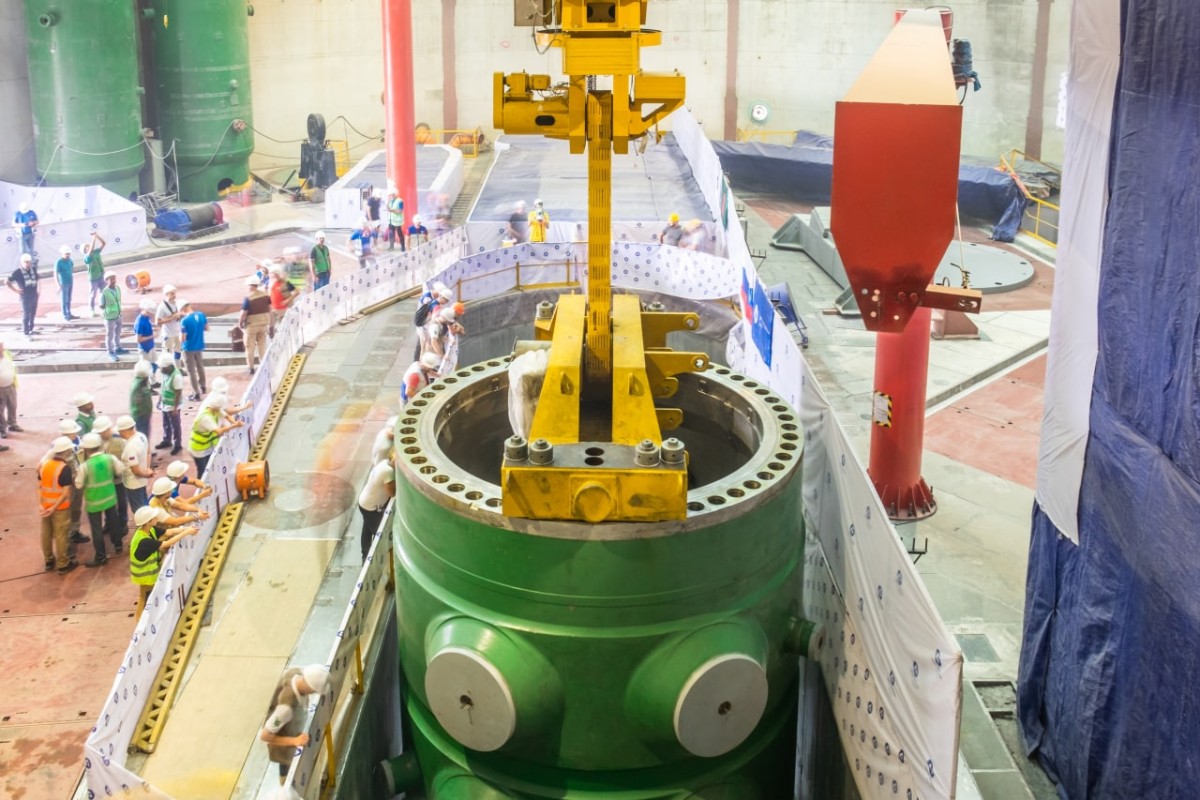 Despite reports of delays in the construction of the Rooppur NPP in Bangladesh, steady progress is being achieved. Rosatom Director General Alexey Likhachev arrived in Bangladesh on 19 October on a working visit timed to coincide with the installation of the reactor pressure vessel (RPV) at unit 2 of the plant. Likhachev and Bangladesh Prime Minister Sheikh Hasina Wazed launched the final stage of the RPV installation at construction site in the Ishwardi region.
The operation to install the 333.6-ton RPV was carried out in several stages. First, a Liebherr LR 11350 heavy crawler crane lifted it onto the transport portal of the power unit. Then, on a special transport trolley, it was moved to the central hall of the reactor compartment. Then, with the help of a polar crane, the RPV was turned into a vertical position and installed on a support ring in the reactor shaft. The VVER-1200 RPV, manufactured by AEM-Technologies is 11.18 metres in length with a diameter of 4.57 metres. Meanwhile installation of the four steam generators for unit 2 in continuing with completion expected at the end of October.
"A year ago, we witnessed the installation of the first reactor vessel in its assigned place, and today the same operation was completed at the second unit," said Likhachev. "We see that the construction of the first NPP in Bangladesh is proceeding actively, despite the obstacles that the pandemic has created for us. I am sincerely grateful to the entire team of builders for their well-coordinated work and grateful to the authorities of the Republic of Bangladesh for their full support of the project.
Sheikh Hasina in turn thanked Russia for its assistance in constructing the plant. "Rooppur NPP will help us provide a better life for our compatriots. … We paid attention to the overall safety and reliability during construction," she noted. "Safety was our main concern. Building a nuclear power plant is a very risky job."
Following installation of the RPV, Likhachev also took part in the opening ceremony of a new modern training centre at Rooppur NPP designed to train operating personnel of various categories. Citizens of Bangladesh will be trained in specialised classrooms and production facilities with state-of-the-art equipment. Russian experts have also developed all the necessary training and methodological programmes, which in the future will allow Bangladesh to independently train its personnel.
The Rooppur plant is being built by Rosatom on the eastern bank of the Ganges River in Bangladesh's Pabna district about 160 km northwest of Dhaka. It will comprise two VVER-1200 reactors. In November 2011, Russia and Bangladesh signed an intergovernmental agreement on cooperation in the construction of the NPP and in mid-December 2015, a general contract was signed. In early 2017, the Russian government provided Bangladesh with a state loan of $11.38 billion to assist with the construction, which began in 2021.
---
Image: Reactor pressure vessel installation at Rooppur unit 2 (courtesy of Rosatom)