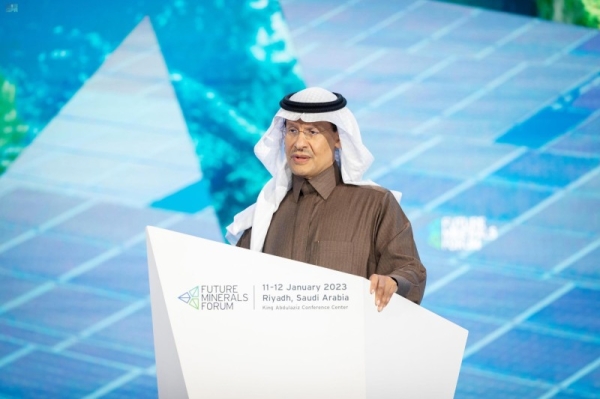 Saudi Arabian Energy Minister Prince Abdulaziz Bin Salman says Saudi Arabia plans to use domestically-sourced uranium to develop its nuclear power industry. "We have large quantities of uranium, and we will exploit them commercially in the best way... We will deal with uranium reserves with full transparency, and we will search for the appropriate partners," he noted.
"Recent explorations of activities showed a diverse portfolio of uranium in different geological locations within the Kingdom such as Jabal Saeed, Madinah, Jabal Qariah in the north," he explained, adding: "Along with uranium, rare minerals such as titanium have been identified in significant quantities in the Kingdom, unlocking even greater investment opportunities."
He told the Future Minerals Forum in Riyadh that recent exploration had identified a diverse portfolio of uranium. "The Kingdom intends to utilise its national uranium resources, including in joint ventures with willing partners in accordance with international commitments and transparency standards," he said. "This would involve the entire nuclear fuel cycle which involves the production of yellowcake, low enriched uranium and the manufacturing of nuclear fuel both for our national use and, of course, for export."
He confirmed that the Saudi National Nuclear Programme for Atomic Energy includes construction of nuclear reactors, which will initially target two large commercial nuclear reactors before expanding further.
Saudi Arabia set up the King Abdullah City for Atomic and Renewable Energy (KA-CARE) in 2010 to advance alternative energies including nuclear. Plans included the construction of 16 reactors to generate about 20% of Saudi Arabia's electricity and smaller reactors for desalination. In 2013, three sites were short-listed. Construction was expected to begin in 2016 to build 17 GWe of nuclear capacity by 2032, but plans were scaled back in 2015 and the target date was moved to 2040. KA-CARE requested proposals for 2.9 GWe of nuclear capacity, from South Korea, China, Russia and Japan. In 2018 a project was launched to build a research reactor. Saudi Arabia is also investigating SMRs, signing agreements with the Korea Atomic Energy Research Institute, Argentina's Invap, and China Nuclear Engineering Corporation. The Kingdom is working on a framework programme for nuclear energy for 2022-2027.
---
Image: Prince Abdulaziz bin Salman, Saudi Arabia's Minister of Energy, says the Kingdom plans to use domestically-sourced uranium to develop its nuclear power industry (courtesy of Saudi Gazette)