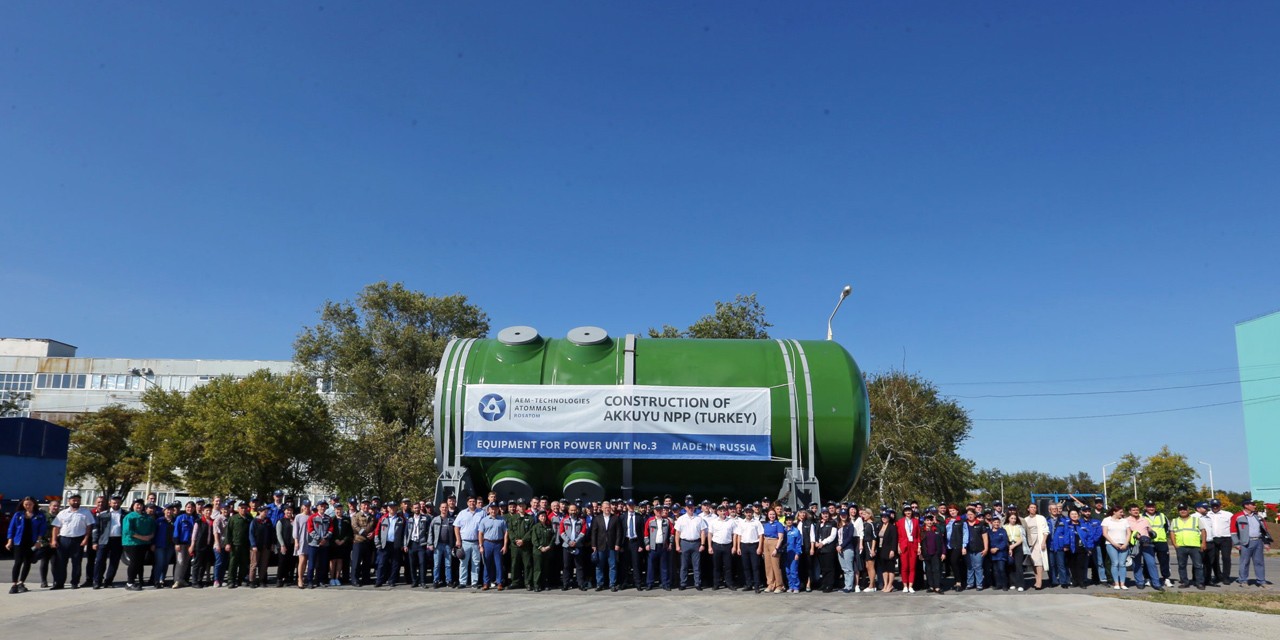 The third reactor pressure vessel (RPV) for the Akkuyu NPP under construction in Türkiye has been shipped from the production site of Rosatom's mechanical engineering division in Volgodonsk. This is the fifth RPV shipped from the facility this year – a record for Russia's domestic nuclear engineering industry.
"With Rosatom entering serial construction of NPPs in Russia and abroad, our machine-building division has increased the volume of work by many times," said Rosatom General Director Alexey Likhachev. "Nuclear machine builders are successfully coping with this task and even achieving new records. Our project portfolio today amounts to 33 power units in 11 countries, so we still have work to do. The reliable and steady work of Atommash gives us confidence that all these projects will be implemented successfully and on time, which means that we will maintain our leading position in the global nuclear market."
General Director of Rosatom's mechanical engineering division Atomenergomash, Igor Kotov, emphasised that the basis for this achievement by Volgodonsk staff is 10 years of hard work by the entire team, which included modernisation of production, optimisation of production processes, and the introduction of digital technologies, without which such results would be impossible.
General Director of project company Akkuyu Nukleer Anastasia Zoteeva noted: "We largely owe the rapid pace of implementation of the Akkuyu NPP project to the leading enterprises of Russia's nuclear industry, in which Atommash occupies a special place. The production of five modern reactors in a year is an outstanding achievement…. I am sure that five reactors is far from the limit, because Atommash, like all enterprises in the Russian nuclear industry, employs talented, enthusiastic, and dedicated specialists."
The equipment will be delivered to the factory pier by special road transport. After loading onto a barge, it will travel 3,000 km by waterway and sea to its destination. The 320-tonne RPV has a length of about 13 metres and a diameter of 4.5 metres.
Akkuyu, Türkiye's first NPP, will eventually host four Russian-designed VVER-1200 reactors. Rosatom is constructing the reactors according to a build-own-operate model and the project is fully funded by Russia. However, Rosatom has the right to sell up to 49% in the project shares to other investors. The pouring of first concrete for unit 1 took place in April 2018, for unit 2 in June 2020, for unit 3 in March 2021, and for unit 4 in July 2022. Completion of unit 1 is expected in the third quarter of 2023 and it is expected to begin operation in October 2024.
---
Image courtesy of Rosatom