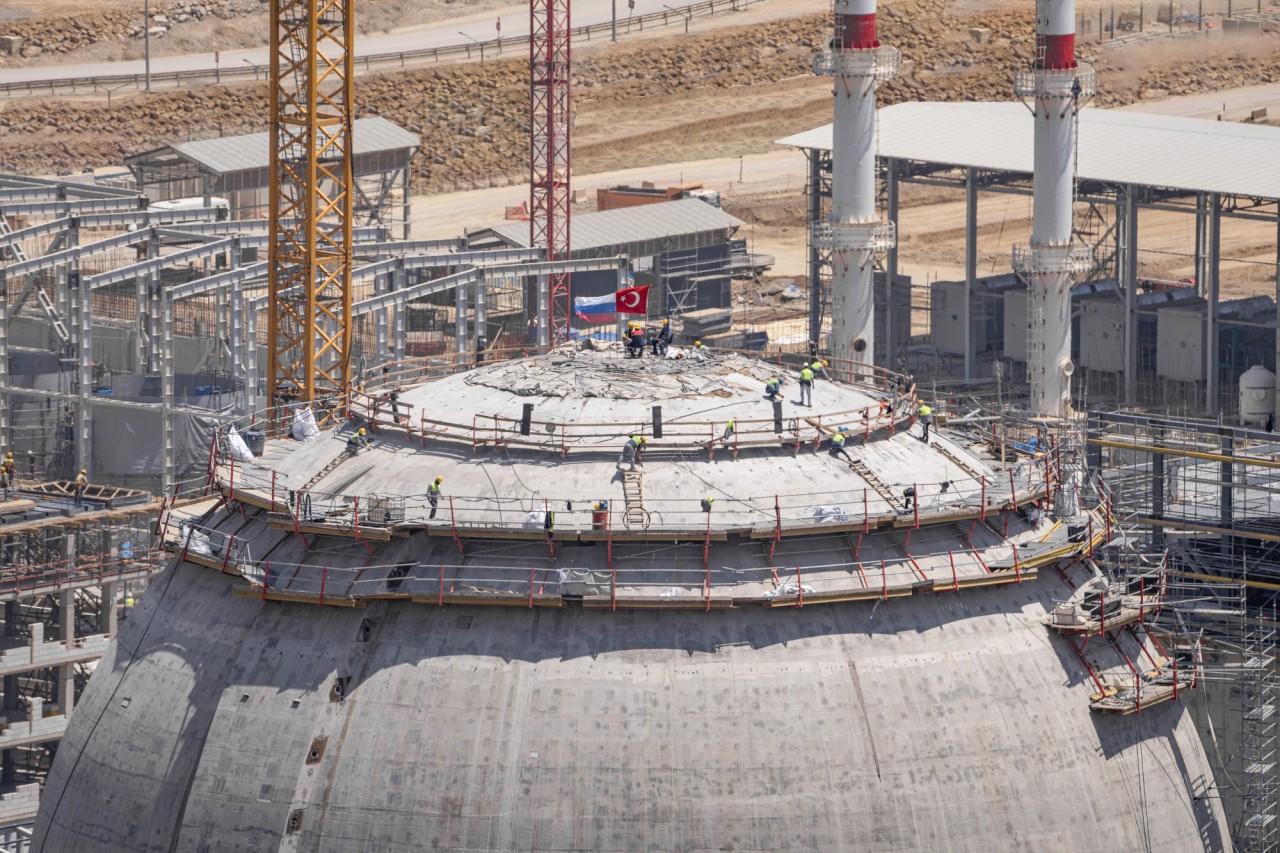 Concreting of the dome of the inner containment (VZO) has been completed at unit 1 of the Akkuyu NPP under construction in Türkiye. The IEC ensures the tightness of the reactor building. To maximise the strength of the containment dome, 422 tons of rebar and over 3,200 cubic metres of concrete were laid. It has high fluidity, which allows it to self-compact and completely fill the space of the structure under its own weight, while maintaining high water-holding capacity, reliability, strength and uniformity of the composition.
During concreting at the Akkuyu NPP, a special high quality concrete mixture is used. Its characteristics – temperature, slump and density – are under constant control. Each batch of concrete undergoes a series of laboratory tests, including testing at the plant and directly at the Akkuyu NPP construction site. Upon completion of concreting, the top of the dome of the inner containment reached the level of +61.700 metres and the wall thickness was 1200 mm.
"Completion of concreting of the inner containment of unit 1 is one of the key events at the Akkuyu NPP construction site. I thank each builder for the maximum return and high professionalism," said Anastasia Zoteeva, General Director of JSC Akkuyu Nukleer. "The close-knit work of the team is making it possible to build all four power units simultaneously. At unit 1, after the successful completion of the construction stage of the VZO and the delivery of the first batch of nuclear fuel, we are entering the home stretch. The installation of the outer containment and other acceptance work remains to be done before the completion of the first power unit," she added.
In the near future, at unit 1, it is planned to install the ropes for the containment pre-tensioning system. This ensures the tightness of the reactor building and protects the unit from any extreme external influences – earthquakes up to magnitude 9, tsunamis, hurricanes, as well as their combinations.
---
Image courtesy of Rosatom