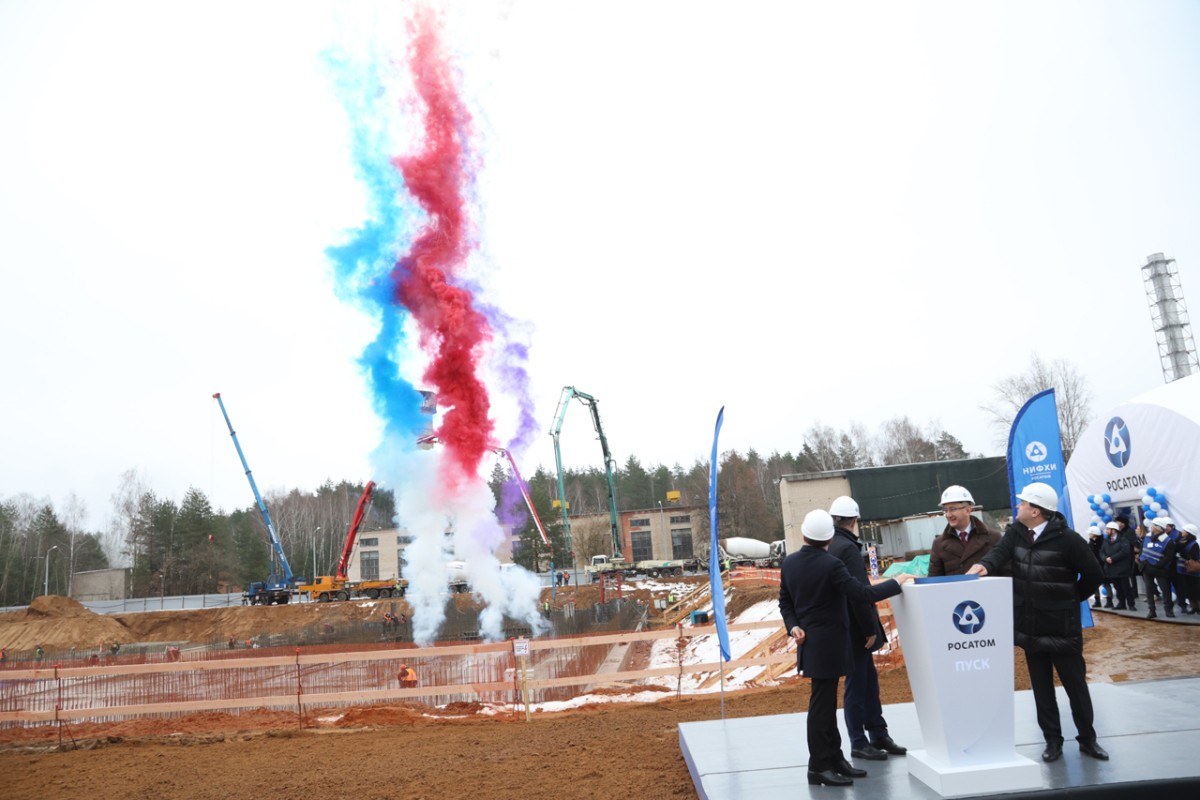 Rosatom has begun construction of a new plant for the production of medical isotope products at the Karpov Scientific Research Institute of Physics & Chemistry in Obninsk, Kaluga region. The plant will produce a wide range of radiopharmaceuticals including those based on iodine-131, samarium-153, and molybdenum-99 isotopes. It will also develop promising active radiopharmaceuticals based on lutetium-177, actinium-225, radium-223 and other isotopes. Once completed, in 2025, it will be the largest such facility in Europe, Rosatom says. It will operate in accordance with international GMP (good manufacturing practice) standards.
The launch ceremony was attended by Rosatom Director General Alexei Likhachev, Health Minister Mikhail Murashko, Minister of Health of the Russian Federation, Kaluga Region Governor Vladislav Shapsha and Deputy Trade & Industry Minister Vasily Shpak.
Currently Rosatom is among the world's top five producers of isotope products and can produce almost any isotope using a reactor. It is also developing other generator technologies for producing technetium-99m, actinium-225, and others. Russia's radioisotope medical products enable around a million diagnostic and therapeutic procedures a year but demand remains extremely high. In 2025, the 21 production lines at the new plant will make it possible to significantly expand the radiopharmaceutical products available for the diagnosis and treatment of a wide range conditions, including inoperable metastatic cancers.
"Rosatom has extensive experience in creating drugs and equipment for nuclear medicine, said Likhachev. Today, when our country is under unprecedented sanctions pressure, we understand that we have sufficient competencies to become one of the leaders in the development of high-tech medical care services for Russian citizens… We see a powerful demand for the formation of domestic technologies in this area." The construction of Europe's largest plant for the production of radiopharmaceuticals in Russia "is a timely response… to the growing demand for high-tech medical care in Russian healthcare", said Health Minister Murashko.
Deputy Trade Minister Shpak said a special investment contract would shortly be signed to support a project for the development and implementation of a technology for the production of radiopharmaceutical drugs in accordance with the European Rules concerning the production and quality control of GMP medicines. Contract would be concluded between the Karpov Institute, the Trade Ministry and the Kaluga Government. "This will allow the enterprise to receive all the necessary measures of state support," he explained.
At present radiopharmaceutical production takes place at a number of different locations in Russia. "Centralisation of the fullest possible range of services in the single orbit of Rosatom will reduce costs at each stage of production, which will reduce the cost of radiopharmaceuticals," said Rusatom Healthcare. "The location of production in Obninsk ensures the prompt delivery of radiopharmaceuticals to medical institutions throughout the country and the world. For this, we have our own special fleet of vehicles and a developed aviation hub.
---
Image: The groundbreaking ceremony (courtesy of Rosatom)