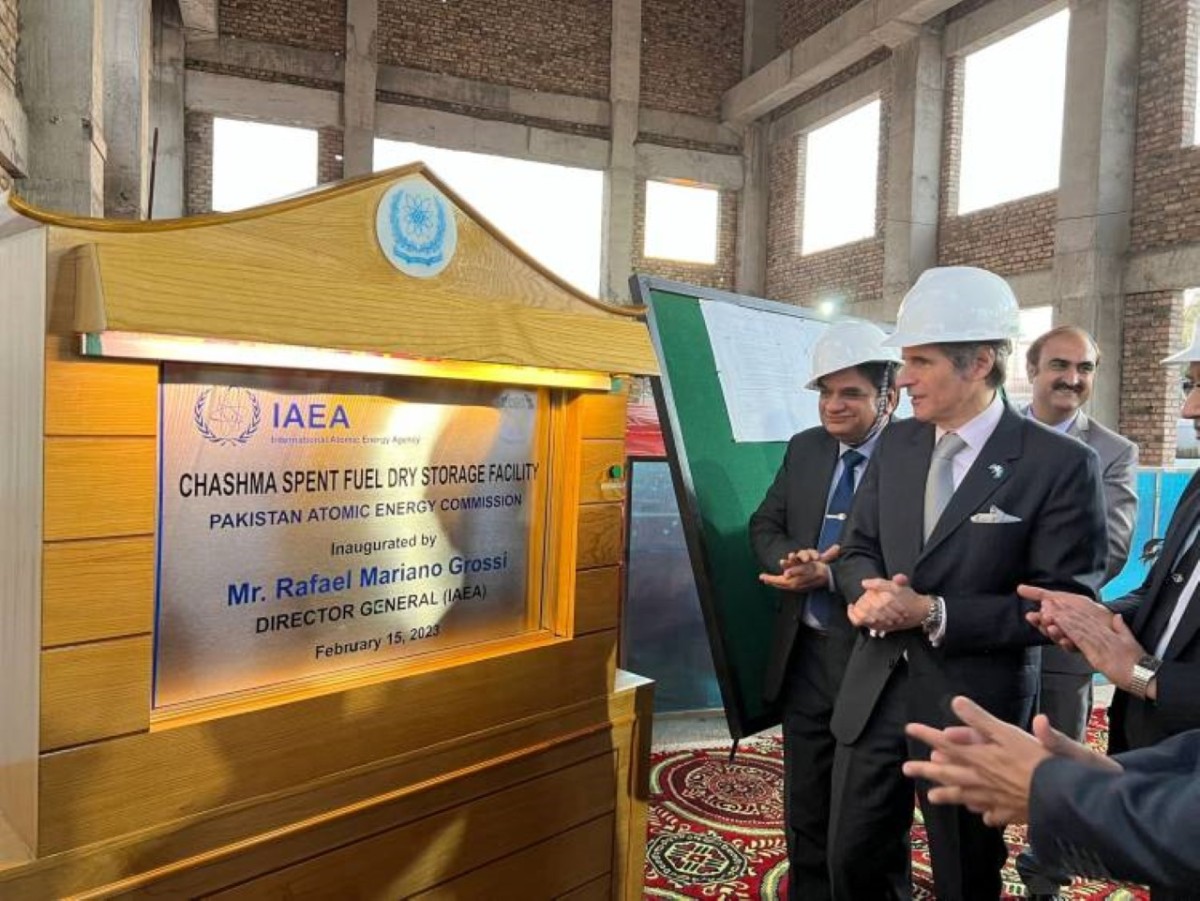 Pakistan and the International Atomic Energy Agency (IAEA) will increase collaboration in peaceful applications of nuclear science and technology, particularly in agriculture and medicine. This was agreed during a two-day trip to Pakistan by IAEA Director General Rafael Mariano Grossi. Pakistan Prime Minister Shehbaz Sharif and Grossi discussed a range of issues including IAEA support in agriculture and medicine as well as nuclear safety and security.
In a meeting with Foreign Minister Bilawal Bhutto Zardari, Grossi said opportunities for the peaceful use of nuclear science and technology in Pakistan were plentiful, emphasising how nuclear applications and IAEA initiatives are addressing climate change and issues of access to cancer care. Zardari said that Pakistan and the IAEA will further enhance cooperation and grow the role of nuclear applications in dealing with climate change, water, energy and food security. In Islamabad, Grossi also met with the Minister of Planning & Development, Ahsan Iqbal, to discuss in more detail the role of nuclear applications in addressing Pakistan's vulnerability to climate change.
Pakistan currently operates six nuclear power reactors at two sites, that generate about 10% of its total electricity. During a visit to the Chashma NPP, Grossi inaugurated the site's new used fuel dry storage facility. He also visited the Pakistan Institute of Nuclear Science & Technology (Pinstech), an IAEA partner in work related to human health, nutrition and water analysis, where he inaugurated a dosimetry laboratory. During a visit to the Pakistan Centre of Excellence in Nuclear Security (PCENS), Grossi said he was impressed by the high standard of the facility and that he looked forward to further collaboration.
At the Nuclear Medicine Oncology & Radiotherapy Institute in Islamabad, Grossi inaugurated Cyberknife, a new cancer treatment facility. He said Pakistan would be able to support its neighbours with regards to cancer treatment access by becoming a regional centre under Rays of Hope — an IAEA initiative seeking to increase cancer care access in low- and middle-income countries by helping to introduce and improve radiation medicine capacities and build the cancer care workforce.
In Faisalabad, Grossi visited the Nuclear Institute for Agriculture & Biology (NIAB), designating it as an IAEA Collaborating Centre in agriculture and biotechnology. In a special ceremony, he planted a Sago Palm at the site and spoke about the IAEA's collaboration with the facility in developing climate change resilient cotton varieties. Grossi toured another IAEA Collaborating Centre, the National Institute of Safety & Security, when visiting the Pakistan Nuclear Regulatory Authority and meeting with its Chairman Faizan Mansoor. He also inaugurated the National Radiation Emergency Coordination Centre (NRECC) in Islamabad.
At the headquarters of the Pakistan Atomic Energy Commission (PAEC), Grossi "had a meaningful exchange with the Commission on the comprehensive and cohesive nature of the country's peaceful nuclear programme". He concluded his visit in Islamabad with a seminar on climate change mitigation, during which he highlighted the role of the IAEA in supporting climate-vulnerable countries in addressing the climate crisis with nuclear science and technology.
---
Image: IAEA Director General Rafael Mariano Grossi at the inauguration of the spent fuel dry storage facility at Pakistan's Chashma Nuclear Power Plant (courtesy of IAEA)