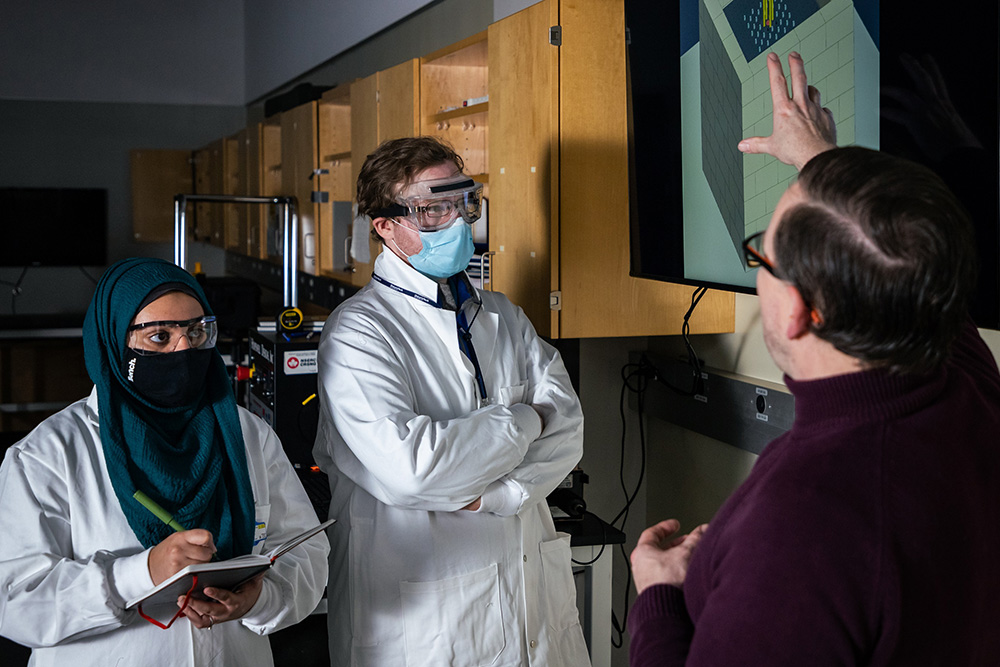 Ontario Tech University (OTU) is seeking to upgrade its high-tech nuclear laboratory facilities by installing a sub-critical assembly. It would be the first such facility at a Canadian educational institution.
OTU says would enable enhanced hands-on, experiential learning opportunities for students, supporting its energy and engineering programmes, including Canada's only undergraduate Nuclear Engineering degree programme.
It would also support important applied research by the university's nuclear engineering experts in co-operation with industry leaders, "to develop nuclear technologies and strategies to protect the environment and combat climate change".
"The addition of this equipment would be a timely game-changer for our students and provide Ontario Tech with a unique-in-Canada tool for clean energy research and teaching, says Dr Hossam Kishawy, Dean of the Faculty of Engineering & Applied Science. "Students in our Energy, Nuclear Engineering, and Radiation Science programs would gain increased experiential learning opportunities, and be even further equipped for career readiness in their chosen fields."
Dr Les Jacobs, OTU Vice-President for Research & Innovation, says the Subcritical Assembly Project "is an example of how we team with industry, community, government and academic partners to bring ideas and insights into our research and teaching environment."
The OTU website says the proposed facility "will be a one-of-a-kind asset that will enable expanded partnerships with nuclear energy sector organisations". The facility will support both traditional reactor and SMR design. It will potentially allow industry to:
Test instrumentation before use on critical reactors.
Confirm reactor modelling and simulations.
Train personnel and upskill the existing workforce on nuclear technologies.
Assess automation of control systems in a nuclear environment.
Ontario Tech University has begun pre-licensing activities for a new facility to support its undergraduate nuclear engineering programmes and for applied nuclear engineering research. The facility will be unique in Canada.
The project is in an early phase, and would first need to obtain an operational licence from the Canadian Nuclear Safety Commission (CNSC). OTU has informed CNSC that it intends to apply for such a licence within the next year. Ontario Tech says it will actively engage with indigenous communities and the broader public in its plans and will encourage public participation in the CNSC licensing process.
OTU says it currently hold two licences granted by CNSC. The Nuclear Substances & Radiation Devices licence was granted in 2003 and the Class II Nuclear Facility licence for a neutron generator was granted in 2012. These have been renewed every five years, following a comprehensive technical review of radiation safety.
Although Canada currently has no operating subcritical assembly, two such facilities have previously operated at Polytechnique Montréal, one of which was dismantled in 1982. According to its notification to the CNSC, Ontario Tech acquired "assets" from the Polytechnique Montreal's other legacy subcritical assembly in 2022. These assets are currently in storage at Ontario Tech's campus and, although they could possibly be used "as is", the university intends to amend the original design to make it better suited to meet its intended training and research purposes and to further enhance safety.
---
Image: Dr. Kirk Atkinson, Associate Professor, Faculty of Engineering and Applied Science (right) speaks with Nuclear Engineering students about subcritical assembly design concepts, in the Nuclear Facility Complex at Ontario Tech University's Energy Research Centre (courtesy of Ontario Tech University)