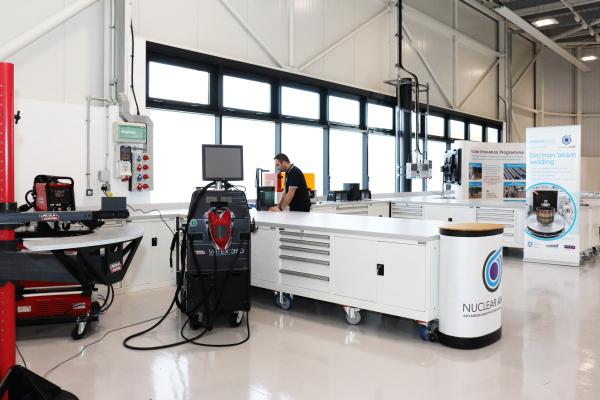 Nuclear AMRC Midlands, a new research and innovation centre is opening n the iHub at Infinity Park, Derby to support manufacturers across the region.

The new centre is a significant expansion of the Nuclear Advanced Manufacturing Research Centre, part of the UK's High Value Manufacturing Catapult.

Around 150 regional manufacturers and stakeholders were invited to the launch event at the iHub on Wednesday 13 February, visit the new workshops, and join speakers from industry and government to discuss the challenges facing manufacturers of all sizes.

Andrew Storer, chief executive officer of the Nuclear AMRC, said the new facility gives "an incredible opportunity" to work with manufacturers of all sizes operating in the most economically important industries across the Midlands.
"As well as helping companies win work in nuclear, the technologies we are developing can tackle the manufacturing challenges in automotive, rail, aerospace, renewable energy and many other high-value sectors," Storer said.

"We have already helped dozens of Midlands-based manufacturers become Fit For Nuclear through our supply chain development programme, and want to collaborate with even more to support their ambitions to innovate and win work at home and worldwide."

The UK's Minister for nuclear energy Richard Harrington welcomed the agreement. He said: "Derby is famous for setting in motion Britain's Industrial Revolution with some of the country's first factories and spinning mills. Now, as part of our modern Industrial Strategy, this new centre of cutting-edge nuclear technology will help to boost local jobs, growth and expertise."

The new facility is a collaboration between the Nuclear AMRC, Derby City Council and the D2N2 Local Enterprise Partnership.

Nuclear AMRC Midlands will initially be based in two workshops and two office suites within iHub. The workshops will act as "flexible incubators" for new manufacturing technologies, operating at an earlier level of manufacturing readiness than the Nuclear AMRC's other facilities in Rotherham and Birkenhead, and exploring new technology areas including electrical controls and instrumentation.