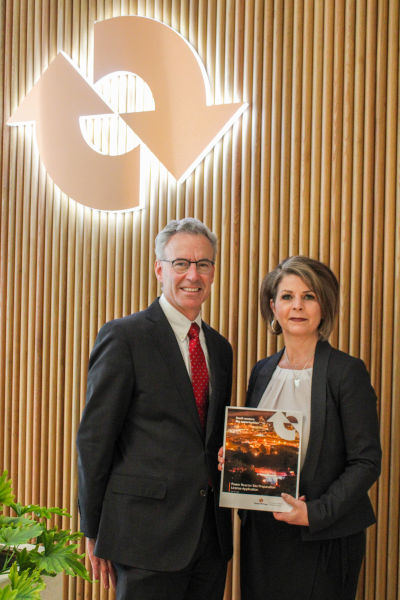 NB Power and ARC Clean Technology Canada (ARC Canada) have submitted an Environmental Impact Assessment registration document to the Department of Environment & Local Government (DELG) as well as a Licence to Prepare Site Application to the Canadian Nuclear Safety Commission (CNSC) for their advanced small modular reactor (SMR) project. These submissions progress plans to construct and operate an advanced SMR on the site of the Point Lepreau Nuclear Generating Station.
NB Power recently launched a strategic plan, "Energizing our Future", that highlights the need to phase out coal by 2030 and achieve net-zero supply by 2035, while maintaining energy security.
NB Power expects to develop strategic partnerships to support the construction and operation of the advanced SMR. Lori Clark, President & CEO of NB Power said SMRs are part of the solution to achieving net-zero by 2035.
Since 2018, ARC has been working on the development of the ARC-100, a 100 MWe integrated sodium-cooled fast reactor with a metallic uranium alloy core. The design is based on the Experimental Breeder Reactor-II (EBR-II) fast reactor prototype which operated at the USA's Argonne National Laboratory from 1961 to 1994. ARC Nuclear signed an agreement with GE Hitachi Nuclear Energy in March 2017 to collaborate on the development and licensing of an SMR using proprietary technology from GEH's PRISM reactor, which is also based on the EBR-II. The ARC-100 is currently undergoing the second phase of the CNSC's pre-licensing Vendor Design Review process, having completed the first phase in 2019. ARC Canada is a subsidiary of ARC Clean Technology based in Washington DC.
NB Power has been providing technical support for the project, which is expected to be the first deployment of an on-grid advanced SMR facility in Canada. The project is a key objective of Stream 2 of the Strategic Plan for the Deployment of Small Modular Reactors prepared by the governments of New Brunswick, Ontario, Alberta, and Saskatchewan in 2022. Deployment of SMR technology has also been envisaged in northern New Brunswick, where the Belledune Port Authority has said an ARC-100 providing energy for hydrogen production and other industries could be in operation by 2030-2035.
Bill Labbe, President & CEO of ARC Clean Technology Canada, noted; "We have an unprecedented opportunity to grow the low-carbon economy of the future, and ARC looks forward to the open and transparent public licensing processes that are now beginning."
---
Image: ARC Canada President, Bill Labbe and NB Power President, Lori Clark (courtesy of NB Power)