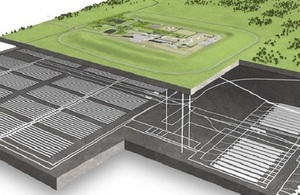 Under a three-year agreement, US-based KBR has announced it will be shaping innovative future solutions to critical UK nuclear infrastructure following a contract award that advances its support in the sector. KBR will deliver expert project, programme and portfolio support to UK Nuclear Waste Services (NWS), part of the UK's Nuclear Decommissioning Authority (NDA).
The contract will leverage KBR's decades of experience and growing domain knowledge of the nuclear energy sector, including the deep technical expertise provided by Frazer-Nash Consultancy, a wholly owned KBR subsidiary.
KBR will coordinate work across the Geological Disposal Facility programme of work within NWS, including project management, communication and community engagement support, technical design, and digital and transformation strategy development.
"This work underlines our commitment to an ever-growing and increasingly important area of national critical infrastructure," said Paul Kahn, President of KBR's Government Solutions International business. "It will leverage KBR's expanding capabilities in the UK, and it aligns with our mission to deliver innovative solutions that help our customers accomplish their most critical business objectives with safety and sustainability at the core."
The new NWS contract additionally tasks KBR with technical design and digital and transformation strategy creation and execution. Its team will be involved with various responsibilities laid out by the Geological Disposal Facility.
As for other UK-based activities, in July KBR announced it will lead research and development of self-defending, self-recovering cyber defence concepts for the UK Ministry of Defence. This three-year contract was given to the Frazer-Nash subsidiary.
---
Image: Ilustrative example of a Geological Disposal Facility (courtesy of NWS)