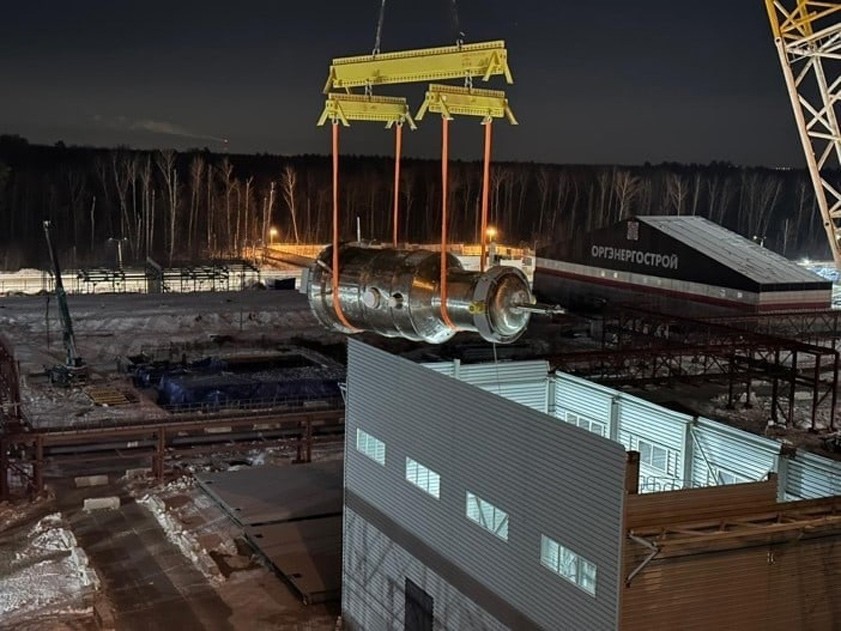 Work is under way to install Russia's multi-purpose research reactor (MBIR) in an auxiliary device - a tilter. Work has been completed to mount the upper support, after which the reactor will be tilted from a horizontal to a vertical position and moved to a temporary assembly shop using a slipway.
The 150MWt multipurpose sodium-cooled fast neutron MBIR research nuclear reactor, under construction at Research Reactor at the Research Institute of Atomic Reactors (NIIAR) in Dimitrovgrad. Will be the world's largest facility of its kind. It is expected to provide the nuclear industry with a modern and technologically advanced research infrastructure for the coming 50 years. Its unique technical characteristics will make it possible to solve a wide range of research problems to support the development new competitive and safe NPPs, including fast reactors based on closing the nuclear fuel cycle. Research time needed at the new reactor will be several times less in comparison with the currently operating installations.
Installation in the reactor building 10 UJA of the reactor vessel assembly, with a total weight of 111 tons, will be carried out using a specialised heavy Liebherr LR 11350 crawler crane. After that, the specialists will install the tensometric monitoring system and block thermal insulation. The reactor vessel itself is a unique thin-walled product. It is 12 metres long, 4 metres in diameter, and weighs 82 tons. The contractor for the construction of MBIR is Institute Orgenergostroy JSC.