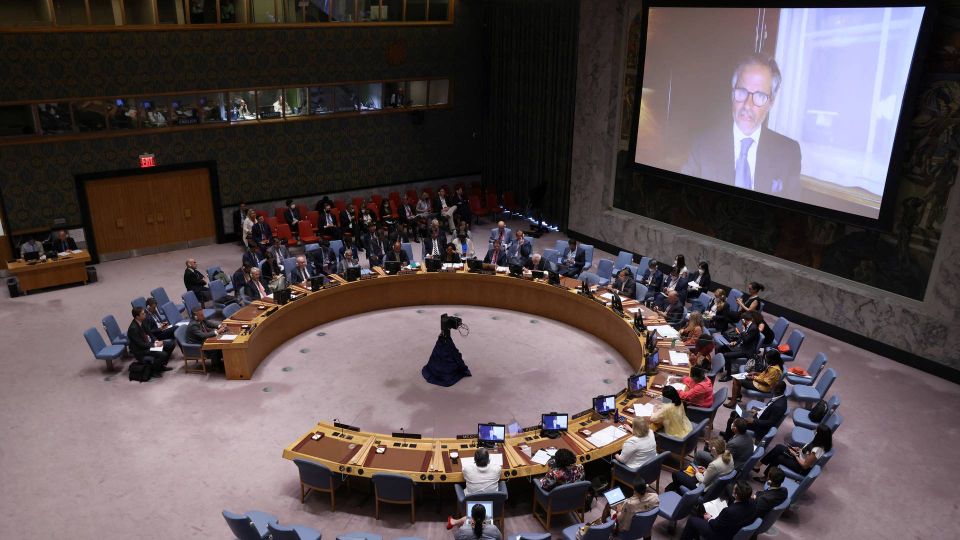 International Atomic Energy Agency (IAEA) Director General Rafael Mariano Grossi said on 12 August that new shelling in the area of the Ukraine's Zaporizhzhia NPP (ZNPP) was further underlining major nuclear safety and security risks at Europe's largest NPP. However, based on the information provided by Ukraine, IAEA experts noted that systems important for nuclear safety and security had not been affected. Nevertheless, renewed shelling at or near the ZNPP was deeply troubling for nuclear safety and security Grossi said.
The shelling on 11 August occurred on the same day that Grossi briefed the United Nations Security Council (UNSC) about the worsening nuclear safety and security situation at ZNPP, emphasising the urgent need for the IAEA to be able to send an expert mission to carry out essential nuclear safety, security and safeguards work there.
The IAEA has not been able to visit the ZNPP since before the conflict began almost half a year ago. Russian forces took control of the NPP on 4 March, but the Ukrainian staff continue to operate the plant. Russia has repeatedly urged IAEA to send a team to assess the situation at ZNPP but Ukraine has refused to facilitate any visit while Russia is in control of the plant. Russia's Ministry of Foreign Affairs on 10 August noted that a visit of IAEA representatives to ZNPP, agreed in June, had been blocked by the UN security department.
In his address to the UNSC – an emergency meeting, which had been requested by Russia – Grossi said IAEA has been actively assessing the situation of Ukraine's nuclear facilities since the conflict began in February. He noted that the Agency had activated its incident and emergency centre, established regular contact with Ukrainian authorities and closely monitored the situation at those facilities, as well as activities involving radioactive sources and nuclear material in Ukraine. The IAEA has also been coordinating offers of help from member states and has facilitated the provision of personal protection equipment and radiation monitors.
Grossi said IAEA has been in frequent contact with both Ukraine and the Russian Federation to ensure that it has a clear picture of evolving circumstances at the site. Moreover, the Agency has conducted nine safeguards missions in Ukraine, including at the South Ukraine NPP and the Chernobyl site. He stressed that the situation at Zaporizhzhia, has been deteriorating rapidly to the point of alarm. "Those military actions near such a large nuclear facility could lead to very serious consequences," he said, expressing grave concern about the situation faced by the Ukrainian operating staff. While there is no immediate threat to nuclear safety as a result of the shelling or other military actions, the situation could change at any moment, he stressed. He asked both sides to cooperate with IAEA and allow a mission to proceed as soon as possible. As such, IAEA must work with the authorities of both countries to obtain access for its experts, he said.
He went on to say that IAEA has received information from both the Russian Federation and Ukraine indicating the state of the facility, its operations, and damage assessments. However, the contents of such statements are frequently contradictory. Without a physical presence, IAEA cannot corroborate some very important facts and provide an independent assessment. Among critical activities, IAEA will be able to assess the physical damage to the facility, determine whether main and backup safety and security systems are functional, and evaluate working conditions of control room staff. Moreover, IAEA needs to perform maintenance on all IAEA safeguards equipment to ensure remote data-collection and the continuity of knowledge, which is indispensable after IAEA's departure from the facility.
Grossi noted that, despite the Agency's readiness to perform such a mission since June, it was not able to do so because of political factors and other considerations. "This is a serious hour, a grave hour and the IAEA must be allowed to conduct its mission in Zaporizhzhia as soon as possible."
Addressing the 15-member UNSC, Russia's Ambassador to the UN, Vassily Nebenzia, said Ukrainian forces had used heavy artillery to shell Zaporizhzhia, including on 5 August, damaging pipelines, when a hydrogen combustion incident took place. Ukraine shelled the plant during a shift change, to intimidate staff – their own citizens, he said. Nebenzia also said that on 6 August, Ukrainian forces attacked with cluster munitions, including on a radiation monitoring post, and on 7 August, a power surge occurred in equipment feeding the plant. The electricity supply was knocked out, and Ukrainian staff were forced to suspend some operations. Mass strikes severed power lines, he said, adding that attacks were carried out at night. Ukrainian forces have aimed weapons at concrete storage facilities, he said, warning that, if strikes continue, it is only a matter of time before a catastrophe occurs. He noted Russia sends IAEA bulletins on these incidents.
Nebenzia said his delegation is convinced that the IAEA mission has not occurred because this would play into the hands of Kyiv and its Western supporters, "who do not want to see that Zaporizhzhia is functioning normally". And of course it is unacceptable for an IAEA mission to be undertaken while Ukraine is shelling, he pointed out.
Ukraine's Sergiy Kyslytsya said the withdrawal of Russian troops and the return of the station to the legitimate control of Ukraine is the only way to remove the nuclear threat at Zaporizhzhia. He said Ukraine stands ready to provide an IAEA mission with all the requisite assistance and facilitate its travel through Ukrainian-controlled territory. However, he added that any such IAEA mission would have to include military experts. He insisted that Russia must return control of the plant to Ukraine. He said Russia's aim was ultimately to disconnect ZNPP from the energy system of Ukraine, and called for Russia "to immediately cease all actions against nuclear facilities and return control over all seized nuclear facilities to the Ukrainian side".
This was echoed by Bonnie Jenkins, US Under Secretary for Arms Control and International Security. She called on Russia to immediately withdraw its forces from Ukraine's territory, to cease all military operations at or near Ukraine's nuclear facilities and to return full control of ZNPP to Ukraine. Access for IAEA personnel must be facilitated, she insisted, so they can address nuclear safety, security and safeguard concerns at the facility.
Security Council President for August, China's Zhang Jun, speaking in his national capacity, called on all parties to exercise restraint and act with caution, noting that. Grossi had been planning to visit Zaporizhzhya, and UN Secretary-General António Guterres had issued an appeal for that purpose. He cited a message from Ukraine Grossi and the Secretary-General on 9 August underscoring the necessity of that visit. He urged the parties to resume negotiations as soon as possible, addressing their mutual security concerns, and called on the international community to act responsibly, stepping up political and diplomatic efforts.
The meeting also heard from Carolyn Oppong-Ntiri (Ghana), Edwige Koumby Missambo (Gabon), Mohamed Issa Abushahab (United Arab Emirates), Odd Inge Kvalheim (Norway), João Genésio De Almeida Filho (Brazil), Ferit Hoxha (Albania), Ruchira Kamboj (India), Jayne Toroitich (Kenya), Nathalie Broadhurst Estival (France), Juan Ramón De La Fuente Ramírez (Mexico), Cáit Moran (Ireland), James Kariuki (United Kingdom).
Summing up, Grossi thanked all Council members for their interventions, which he said are important for enhancing the Agency's understanding. "We recognise the obvious differences that exist," he observed. At the same time, a common denominator emerged from today's meeting: everyone agrees that nuclear safety and security must be ensured, everyone supports the seven pillars and believes that an IAEA mission must take place. "It is no longer a matter of if, but a matter of when," he said, noting that "the how" must be addressed. He said he will intensify his consultations with Ukraine, Russian Federation and the United Nations, through the Department of Safety and Security, to conduct a mission "which is so badly needed after which he would be able to brief on the visit to "support Ukraine in this important hour" and restore complete safety and security around all facilities in the country.
Earlier in the day, UN Secretary-General Guterres issued a press statement expressing grave concern about the unfolding situation in Zaporizhzhia. He called for all military activities in the immediate vicinity of the plant to cease immediately and not to target its facilities or surroundings. "I urge the withdrawal of any military personnel and equipment from the plant and the avoidance of any further deployment of forces or equipment to the site. The facility must not be used as part of any military operation. Instead, urgent agreement is needed at a technical level on a safe perimeter of demilitarisation to ensure the safety of the area." He added: "I urge the parties to provide the IAEA mission with immediate, secure and unfettered access to the site."
Nebenzia, in response, noting that the Secretary-General had called for ZNPP to be demilitarised, stressed that "the Russian Federation is not using the nuclear facility for that [military] purpose – Ukraine is". He said Russian Federation forces ensure its protection, repelling Ukrainian attacks day after day and averting a nuclear catastrophe. He added that the withdrawal of Russian troops would expose the plant to hostile actions by Ukrainian and nationalist forces.
Meanwhile, shelling of ZNPP and the operators' town of Energodar was reported again on 13 and 14 August, resulting in one death and a number of injuries.