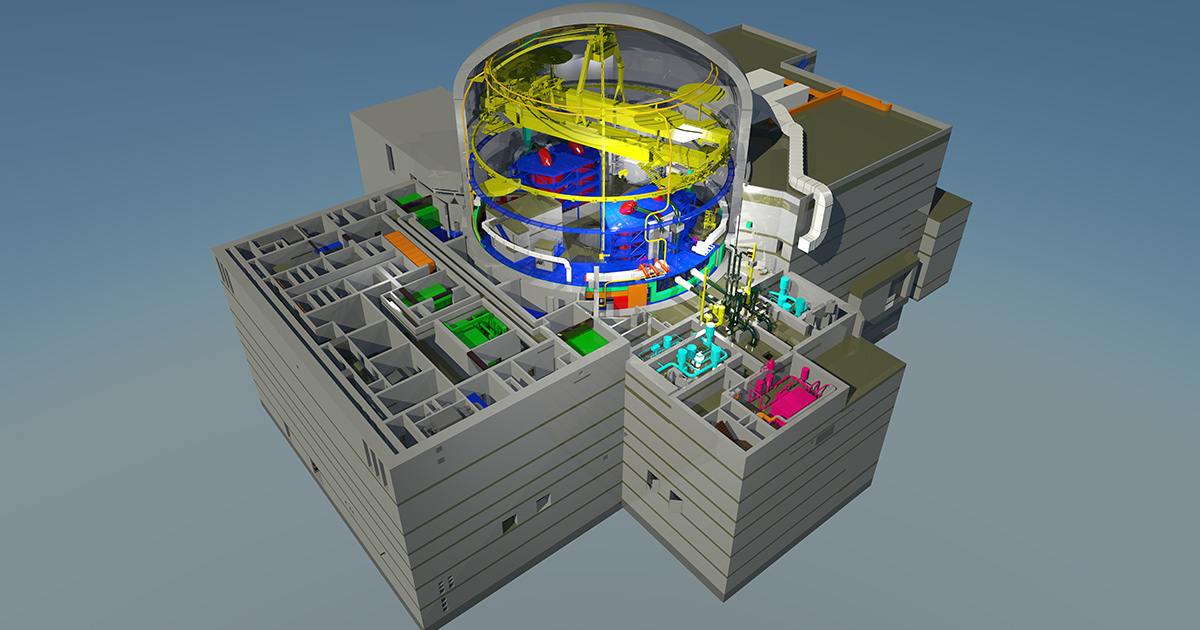 France is preparing legislation to reduce red tape related to nuclear power projects and aims to start construction of its first next-generation EPR2 reactor before May 2027, an energy ministry official has said. President Emmanuel Macron announced plans in February to build at least six EPR2 reactors, as well as the possibility of eight additional reactors, with a first project from 2028 and initial commissioning by 2035.
The government is now seeking to minimise the bureaucratic processes involved. The bill, which will be presented to the Council of Ministers before the launch of a public debate at the end of October, will simplify procedures and reduce the risk of multiple legal objections.
"The objective is for the procedural part and the authorisations to last less than five years and for the construction works of the first EPR2 to begin before the end of the presidential term, before May 2027," the ministry official told journalists. "The latest schedule ... foresees that the commercial operations of this reactor will start from 2035-36."
The bill has already met with opposition from environmental groups.
Pauline Boyer of Greenpeace France noted: "The government proposes a law to accelerate the installation of new nuclear reactors before any consultation with the population! It's a democratic hijacking." Greenpeace said it would ignore any public consultation processes related to new NPP construction. "The only thing this bill will accelerate is the regression of environmental law," Boyer said in a statement.
A report released by Matignon in February estimated the total construction cost of six EPR2s, in a median scenario and on the basis of commissioning the first reactor by 2037, at €51.7 billion ($49.8 billion). Energy company EDF intends to build the reactors at three existing NPP sites: two in Penly, in the Seine-Maritime administrative department, two in Gravelines, in northern France, and two either in Bugey, in eastern France, or in Tricastin, in the south of France.
However, EDF is currently undergoing a governance overhaul and full nationalisation. In August it issued a fifth profit warning for the year and now expects lower output to reduce its base earnings of €29 billion in 2022.
Moreover, France's nuclear fleet has come under intense scrutiny, with a wave of plant repairs that forced a record number of reactors to shut down and sent nuclear power output to its lowest level since 30 years, seriously exacerbating Europe's energy crisis. Of the group's 56 reactors, 26 are currently shut down for maintenance reasons, corrosion problems or for refuelling.
EDF executive director Cédric Lewandowski told the Economic Affairs Commission of the National Assembly on 14 September that, in theory, five should restart in September, five in October, seven in November, three in December, three in January and two in February. "EDF is committed to restarting all shutdown reactors for this winter," Agnès Pannier-Runacher, Minister for Energy Transition, told the energy defence council on 2 September. However, most experts do not think this is feasible given the many problems facing EDF such as the prolonged and unplanned shutdown of four reactors on 25 August, for problems of corrosion.
To carry out this plan, EDF's new CEO, Luc Rémont, will have to tackle a shortage of skilled labour, which is contributing to delaying the revival of the nuclear fleet, Le Monde pointed out. Faced with a lack of industrial welders, pipefitters, machinists, and boilermakers, EDF will have to recruit workers in Romania, Portugal or elsewhere, and they will require 2-3 years of training.
The EPR2 is a third-generation design produced by Framatome and EDF. It is an "optimised" version of the 1.7GWe EPR design, which has faced teething problems. The first two projects at Flamanville in Normandy and Olkiluoto in Finland both suffered lengthy delays and cost overruns. However, two other EPR reactors were completed at the Taishan plant in Guangdong, China, and entered service in 2018 and 2019.
---
Image: Rendering of the EPR2 nuclear island (courtesy of EDF)