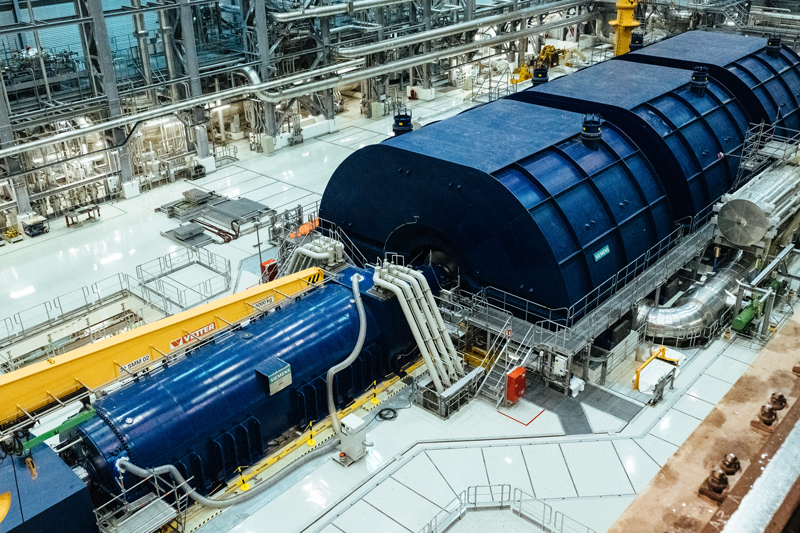 The EPR reactor at unit 3 at Finland's Olkiluoto NPP (OL3) was reconnected to the national grid on 29 August following an 11-hour outage caused by a measurement error in a voltage regulator, plant owner-operator Teollisuuden Voima Oyj (TVO) said. According to information received from the plant supplier [Areva-Siemens], OL3 EPR's regular electricity generation will start in December 2022 instead of the previously announced September 2022.
"Trial operation continues with 60% power level tests. In this case, between tests, the facility produces electricity for the Finnish main grid with a power of approximately 850 MW," TVO noted on 28 August. In June, TVO had said trial operation would be suspended for more than a month due to loose parts problems with the turbine's superheater. "Automation updates were mainly done on the turbine, but a few updates were also implemented in the same connection to the process automation on the reactor side," TVO noted.
The remaining 60% power level tests in the trial operation programme include, among other things, three significant test components: testing the moisture separator and intermediate heater systems in different fault situations, operational testing of the turbine valves, and testing the plant's planned transition to self-use, TVO explained.
According to the current production plan for the trial operation phase, 80% power level tests will begin in September and the full power tests in early October. "Production forecasts may change due to the needs that emerge during the trial run. Necessary repair, maintenance and inspection work is carried out during the trial run. This ensures predictable and stable electricity production for the next 60 years," TVO said.
---
Image: The turbine hall at Olkiluoto 3 (courtesy of TVO)