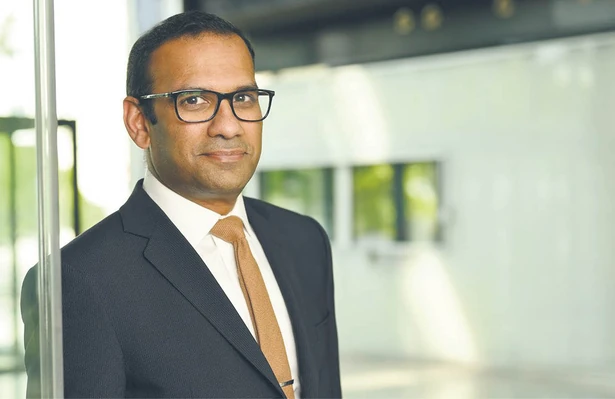 Following Poland's announcement that its first NPP would be built by Westinghouse, Vakis Ramany, EDF vice president responsible for international development of nuclear energy, has said: "EDF, with the support of the French government, maintains and renews its integrated EPR-based offer to secure and accelerate the Polish nuclear power programme." He argued that EPR technology and EDF "remain the best fit and the best chance for the Polish and other European nuclear power programs to meet their objectives".
He added: "While EDF regrets its preliminary offer submitted in October 2021, based on the 100%-European 1650MW EPR, has not been discussed as part of a competitive process for a 1st site (where technical, industrial, commercial and financial criteria would have prevailed), one must commend the Polish government's resolute approach to include nuclear in the future energy mix of Poland."
He noted: "As the Polish nuclear power programme aims for up to 9000MWe of nuclear capacity by 2043, EDF remains committed to support the Polish authorities to expand and accelerate their programme in the framework of a close cooperation between the French and Polish industries."
He said derisking and securing the delivery of such an ambitious program requires :
full assurance that the technology meets the European standards and that the main and primary partner has all the rights to export and develop its technology;
full confidence that the main and primary partner has the recent experience and the capability to perform the integration of Engineering, Procurement, Construction and Commissioning of a complete plant;
full confidence that the main and primary partner knows how to support human capability building and knows how to fully involve the Polish industry;
full confidence that the main and primary partner remains committed until the completion of the projects and during at least 60 years of operation.
In this respect, he added:
EPR is 100% European;
EDF has all the rights to propose its EPR technology;
EPR is licensed in three countries in Europe and EDF has built, is building, and will continue to build EPR technology reactors in Europe, a unique assurance of continuous improvement towards excellence;
EDF demonstrates at Hinkley Point C in the UK how it can significantly bring the local supply chain on board and boost its capabilities; French nuclear projects are already by far those providing most opportunities to Polish companies;
EDF and the French industry have never abandoned their partners in any nuclear project; out of five sites originally attributed to various developers in the UK, only EDF is developing and building NPPs.
Ramany argued that EDF and France's decision to a six-unit domestic programme was the "best demonstration of confidence and long-term commitment to the EPR technology".
For all these reasons, EDF and the French government is renewing its integrated EPR-based offer to Poland. He concluded: "EDF calls for the signing of political and industrial agreements between Poland and France, so both like-minded countries can join efforts in implementing rapidly EPR projects in and for Europe."
This followed a detailed interview on the same subject, which Ramany gave to Dziennik Gazeta Prawna on 2 November, in which he stressed the importance of EDF's experience working in Europe and the fact that neither Westinghouse nor Korea Hydro and Nuclear Power (KHNP) – the other contender in the Polish tender had built any NPP in Europe. "It is the experience of many years of work. No other supplier has such experience, which can be very useful for Poland. Our American and Korean colleagues have not built any AP1000 or APR1400 reactors in Europe to date," he said.
He noted that France and Poland had "already joined their efforts to integrate nuclear energy into the European taxonomy, enabling future investments in nuclear energy to benefit from competitive financing conditions", adding that France and EDF were "ready to work with the Polish authorities to further strengthen the role of nuclear energy in the energy transition in Europe". In addition, he said, EDF has designed, built and operates almost half of Europe's nuclear capacity "and is currently the only nuclear reactor builder with a confirmed programme to build new nuclear power plants in France and many projects in Europe". This makes EDF "the best long-term partner of the Polish nuclear program, enabling Poland to quickly achieve energy sovereignty and climate goals".
He pointed out that "the process of selecting a technology supplier must be conducted in such a way that Brussels obtains appropriate guarantees", and that EDF had experience in dealing with Brussels. "We know the requirements of the European Commission. We are ready to share our experience and work with the Polish government so that the Polish nuclear programme can count on the required support."
Ramany said EDF "is in talks with the Polish government about the investments included in the Polish Nuclear Power Programme. We are talking with the Minister of Climate and Environment Anna Moskva and the government plenipotentiary for strategic energy infrastructure Mateusz Berger, who are responsible for the Polish nuclear programme. I cannot comment on other initiatives on this matter."
He emphasised three facts:
The three bids currently under consideration "are non-binding bids and their details are confidential, as confirmed by the Ministry of Climate and Environment".
The price and other conditions presented by EDF are based on European conditions, "and EDF is the only bidder that has such experience in the development and construction of Generation 3+ nuclear reactors in Europe".
"Both of our competitors are based on different continents and may have to prove that they can be treated as 'local'. When it comes to EDF's offer, EPR is the only one that is entirely based on European technology, 100%. designed and manufactured in Europe. All production plants of the main components of a nuclear power plant and fuel are located less than 1,200 km from the Polish border. Additionally… EDF is able, better than any other bidder, to organise the Polish supply chain for such a project. In fact, we've already started doing it, because 35 Polish companies have already been working on our EPR projects in Europe."
---
Image: Vakis Ramany, EDF vice president responsible for international development of nuclear energy (courtesy of EDF)