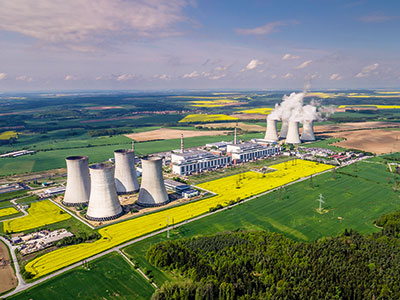 Czech power company CEZ has said that unit 3 of the Dukovany NPP has been shut down for refuelling and maintenance. The reactor will receive 90 fresh fuel cartridges and technicians will inspect the reactor pressure vessel and complete general maintenance of the two main circulation pumps.
The Czech Republic has six commercially operational reactor units: four Russian designed VVER-440 units at Dukovany site, which began operation between 1985 and 1987, and two VVER-1000 units at Temelín, which began operation in 2000 and 2002. Total installed nuclear capacity is 3934MWe accounting for 32.5% of electricity generation.
TVEL (part of Rosatom) has long been the fuel supplier for both NPPs but from 2024 US-based Westinghouse and the French Framatome will supply fuel for Temelin. However, as yet, only TVEL can supply fuel for VVER-440 reactors, although Westinghouse is in the process of developing such fuel. Dukovany currently has fuel supply for almost three years. "According to the valid contract, another delivery from Russia should take place later this year," said plant director Roman Havlin.
TVEL has been supplying Dukovany for almost 40 years and continues to develop fuel for the power plant's needs. "If we buy it from another supplier, it does not have such a history. This means that the fuel in our country will be usable, it will be safe, but it may have a higher or lower output, we do not know," Havlín explained.
Dana Drábová, chairwoman of the State Office for Nuclear Safety, said she did not expect it would be necessary to change fuel suppliers for the roughly 20 years of operation that remained for the Dukovany plant. She noted that TVEL produces fuel of excellent parameters. "CEZ will have to come to terms with the fact that the fuel from the new supplier will not be optimised for performance, as was the case with the fuel from TVEL," said Drábová.
As to maintenance, Havlin noted: "We and our suppliers have 15,165 work orders and 47 major technical and investment actions to handle during the shutdown. It will be difficult, but we are prepared as much as possible." As part of the shutdown, the power engineers will complete modernisation and optimisation the last cooling tower - No 8. CEZ said this will increase production at Dukovany by around 15,539 MWh. Just a seemingly small reduction in the average temperature of the circulating cooling water by 0.35° C will increase the efficiency of the entire power plant, CEZ explained. "These are not extremely large volumes, but a number of small measures ultimately have an effect," said Bohdan Zronek, member of CEZ board of directors and director of the nuclear power division.
---
Image: The Dukovany nuclear power plant site (courtesy of CEZ)