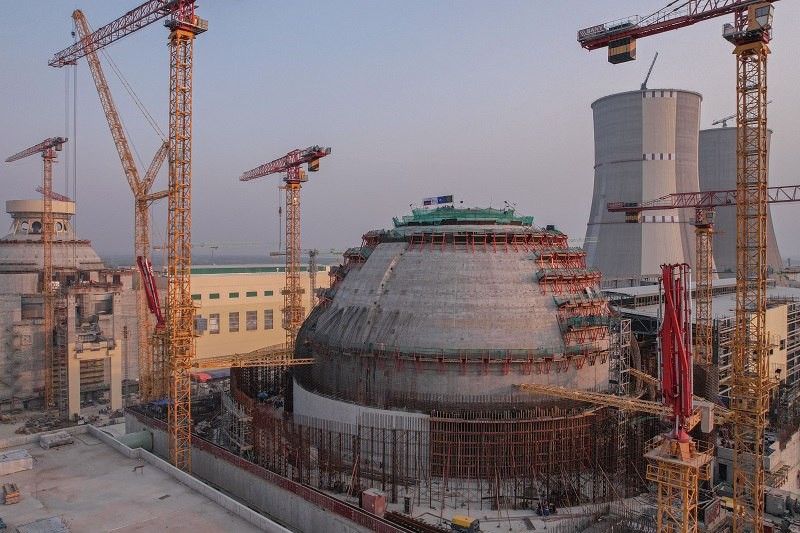 Rosatom's Engineering Division (ASE - Atomstroyexport) has completed concreting the 16th tier of the inner containment (VZO) at unit 2 of the Rooppur NPP under construction in Bangladesh. For the entire structure, which is 17.6m high and 42.8m in diameter at its base, more than 3200m3 of concrete was required.
"Having completed the construction of the passive safety system of the VZO, we are now moving on to equally important stages of construction", said Alexey Deriy, ASE Vice President. "In the near future, work will begin on tension of the ropes for the prestress system of the containment shell. Work is underway on the construction of the outer protective shell – enlargement assembly of the metal structures of its domed part."
The VZO not only protects the reactor compartment, but also provides support for the passage of pipelines and the polar crane, used to service the reactor.
The Rooppur plant is being built by Rosatom on the eastern bank of the Ganges River in Bangladesh's Pabna district, about 160 km northwest of Dhaka. It will comprise two VVER-1200 reactors. In November 2011, Russia and Bangladesh signed an intergovernmental agreement on cooperation in the construction of the NPP and in mid-December 2015, a general contract was signed. In early 2017, the Russian government provided Bangladesh with a state loan of $11.38bn to assist with the construction, which began in 2021.
---
Image: Concreting of the inner dome has been completed at Rooppur 2 (courtesy of Rosatom)