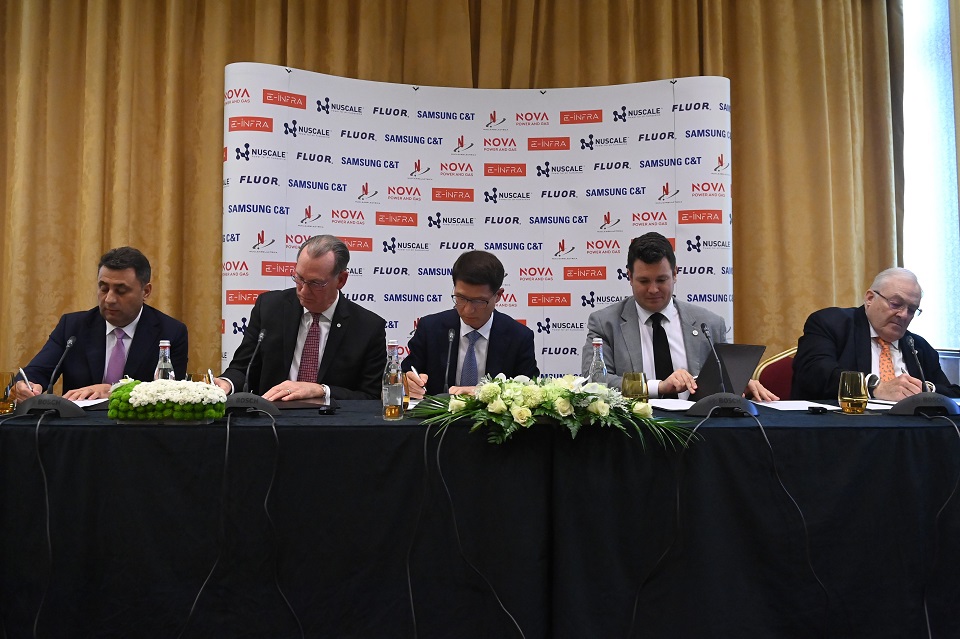 A Memorandum of Understanding (MOU) has been signed by Romanian nuclear utility Societatea Na?ionala Nuclearelectrica (SNN), US-based NuScale Power, Romanian companies E-INFRA and Nova Power & Gas, US-based Fluor Enterprises and South Korea's Samsung C&T Corporation to collaborate in the deployment of NuScale VOYGR Power Plants in Central and Eastern Europe and in Romania.
Romania aims to be the first country in Europe to deploy a NuScale VOYGR small modular reactor (SMR) In 2021, NuScale and SNN signed a teaming agreement to deploy the first NuScale six-module VOYGR-6, 462 MWe power plant in Romania by the end of this decade. NuScale and RoPower, a project development company established and jointly owned by SNN and Nova Power & Gas, are currently conducting a Phase 1 Front-End Engineering & Design (FEED) study to analyse the preferred site for possible deployment of a VOYGR SMR at a former coal plant in Doicesti, Dambovita County. In May, NuScale and SNN opened the first international NuScale Energy Exploration Centre (E2 Centre) in Europe, in collaboration with the US and Romanian governments.
The SMR Project in Romania is expected to provide more than 190 permanent jobs, and more than 1,500 construction jobs, and 2,300 production jobs. The SMR plant in Doicesti will support industrial activity in the area, which will develop the region through taxes to the state and local budget, investments in communities.
The combined expertise of the companies that signed the MOU will provide support for deployment and implementation of NuScale's SMR, SNN said. The MOU covers critical areas of development such as: project planning, licensing, permitting, engineering, procurement, construction, operation, maintenance, decommissioning, financing and local resources capitalisation. Thes will enable "regional SMR like-minded states to benefit from the experience and deploy SMRs safely and in line with the national energy needs".
SNN CEO Cosmin Ghitasaid this is "an unprecedented international cooperation effort entirely dedicated to meet energy and decarbonisation need". The project "will ensure energy security, local and regional development, former coal-based facility repowering, and will bring multiple economic and social benefits". HE added: "From financing support to technical support, SMR deployment, in Romania and internationally, benefits from the joined efforts of highly experienced and skilled states and organisations."
Se Chul Oh, President & CEO of Samsung C&T Corporation said: "For Romania and Europe to accomplish energy conversion and the carbon-neutral 2050 goal, I believe the Romanian SMR project is a very important first milestone." He noted Samsung C&T 's participation in the UAE Barakah NPP project and the Saeul NPP in Korea.
"NuScale is excited to continue our collaboration with our partners to advance the deployment of our leading SMR technology to Central and Eastern Europe and in particular in Romania with the Doicesti project" said John Hopkins, NuScale Power President & CEO. "Partnerships like those announced today are critical for SMR deployment and in meeting our global decarbonization goals".
Teofil Mure?an, CEO of E-INFRA noted that the SMR project in Doice?ti brings together multiple knowledges and experiences. "The former coal-based power plant will be restored as a modern carbon-free facility, enabling socio-economic development locally and strengthing European energy security," he said. E-INFRA is a holding company for five private Romanian companies including Nova Power & Gas, Electrogrup, Direct One, Netcity and WESEE.
Jim Breuer, group president of Fluor's Energy Solutions business said, with the Doicesti facility, Romania will become a leader in progressing Europe's all-important energy security and decarbonisation goals". Fluor, along with NuScale, was selected to provide front-end engineering and design to bring this project to fruition.
NuScale's VOYGR SMR plants are powered by the NuScale Power Module, a small, pressurised water reactor that can generate 77 MWe or 250 MWt (gross), and can be scaled to meet customer needs through an array of flexible configurations up to 924 MWe (12 modules). It is the first and only SMR to have its design certified by the US Nuclear Regulatory Commission.
---
About E-INFRA
E-INFRA is a private Romanian group of companies, active in the fields of energy and civil infrastructure, with over 26 years of a successful track record in delivering large-scale projects, both nationally and internationally. ENFRA Group has been involved in the development and implementation of major infrastructure projects, demonstrating high-quality results.
E-INFRA is the holding Group of 5 companies: Nova Power and Gas – Power production, electricity & natural gas supply energy and gas trading, natural gas distribution infrastructure, Electrogrup – General EPC, infrastructure turn-key projects professional services, Direct One – fiber optic infrastructure and data carrier services, Netcity – Bucharest underground fiber-optic telecom infrastructure, WESEE - Turn-key & maintenance services for wind parks.
---
Image: Societatea Na?ionala Nuclearelectrica and partners sign the MoU to collaborate on the deployment of NuScale VOYGR Power Plants in Central and Eastern Europe and in Romania (courtesy of SNN)