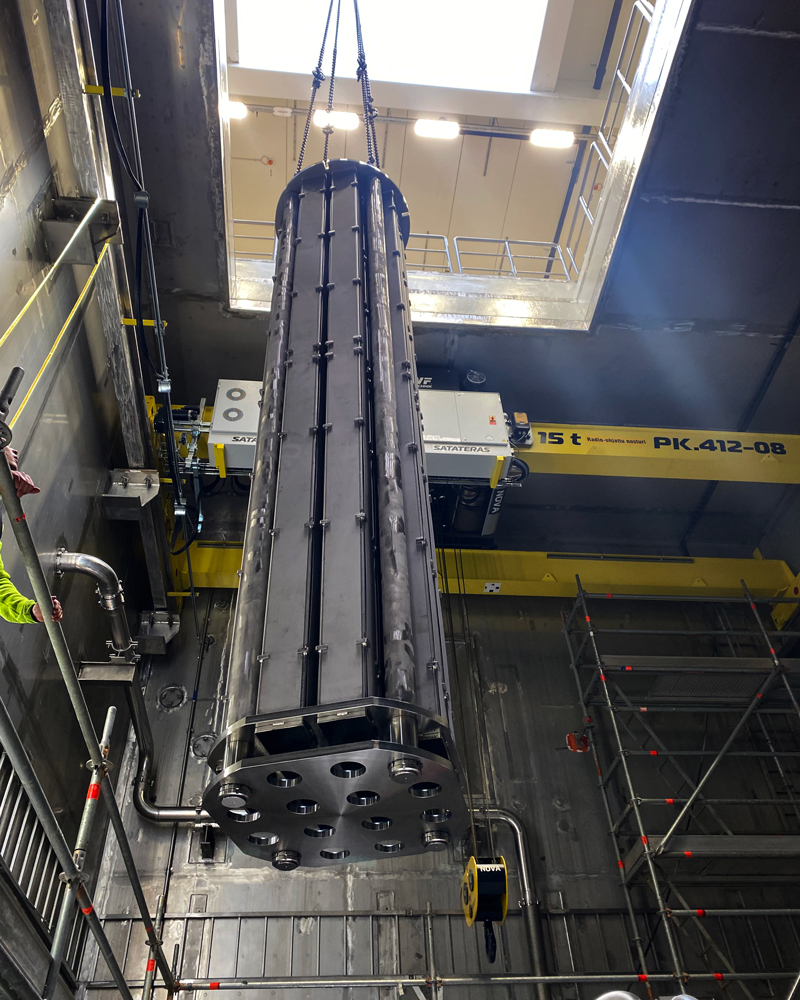 The drying station for used nuclear fuel became the first commissioning process in the equipment installation subproject to be completed with regulatory approval at the encapsulation plant being built by Finnish waste management company Posiva at Olkiluoto. The fuel handling cell at the encapsulation plant is where the used fuel assemblies are first lifted out of water where they were placed after being unloaded from the reactor pressure vessel. They then need to be dried before they are sealed within copper canisters and sent for final disposal
The drying station was supplied by Platom Oy, and the Site Acceptance Test (SAT) was completed successfully with Project Manager Markus Forsberg and Systems Specialist Jarkko Tamminen from Posiva as well as the entire Posiva Project Team working in close collaboration with Platom's Project Manager Janne Matilainen and EIC's Lead Designer Matti Toikkanen. As the responsible licensee, Posiva is responsible for the long-term safety of the drying station. The equipment project started in April 2020 and the Site Acceptance Tests were completed in October 2022.
"The tests proceeded without any issues and the drying system operated as planned, said Posiva's Markus Forsberg. "The licensing process of the system is quite complex, as YVL Guides pertaining to several fields of technology need to be complied with and the system comprises components of different safety classes.
The encapsulation plant is part of Posiva's final disposal facility complex. Used fuel will be transported from interim storage to the encapsulation plant where it will be packed into final disposal canisters made of copper and spheroidal graphite cast iron. The cannisters will be transferred into the underground tunnels of the repository, located at a depth of 400-450 metres, and further into deposition holes lined with a bentonite buffer.
In May, Skanska Talonrakennus Oy, the contractor for construction of the encapsulation plant, handed over the building to Posiva for installation of the nuclear systems and commissioning of the process systems of the encapsulation plant. Posiva, which is jointly owned by Finnish nuclear utilities Fortum and Teollisuuden Voima Oyj, submitted its construction licence application for the repository to the Ministry of Employment and the Economy in 2013 and it was granted in 2015. Construction began the following year and operation of the repository is expected to begin in 2023. Posiva still need to obtain a separate operating licence.
---
Image: Assembly of the fuel rack for the drying chamber (courtesy of Posiva)