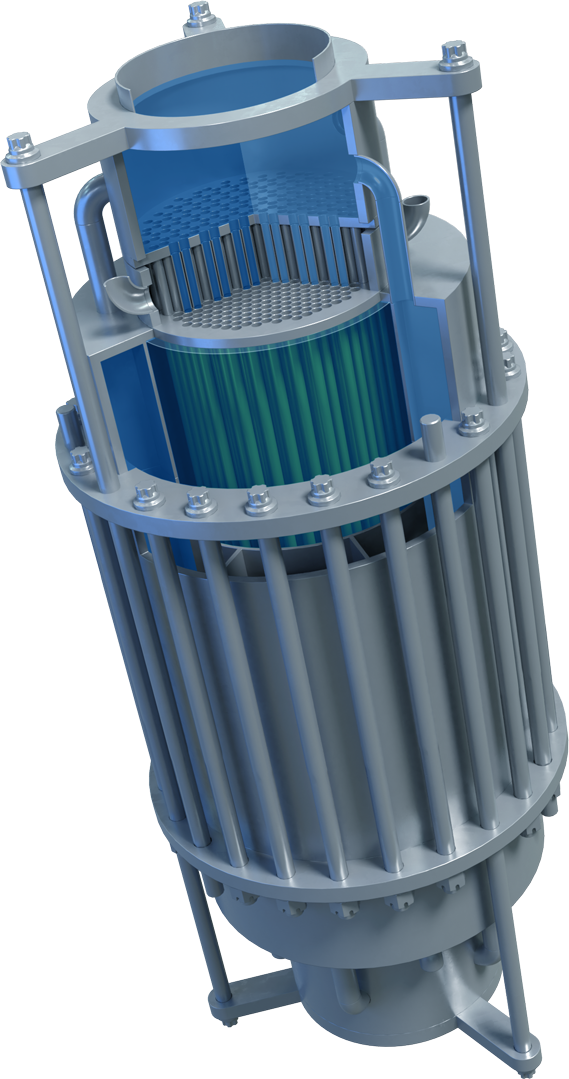 Canadian research centre TRIUMF and Canadian-German nuclear technology company Dual Fluid have signed a memorandum of understanding (MOU) to advance the development of a small modular reactor (SMR) based on Dual Fluid technology. TRIUMF is Canada's particle accelerator centre and a leading research centre for subatomic physics.
Dual Fluid says the goal of the new reactor concept is to use processed nuclear waste as fuel, "and to exponentially increase the performance of today's nuclear power production technologies".
The collaboration will focus on materials research to address several challenges, including the identification of materials that can withstand the high demands in the reactor core, which operates at temperatures of 1000 degrees C and produces a highly radioactive and corrosive environment.
The research will make use of TRIUMF's materials irradiation facilities. These include the Proton and Neutron Irradiation Facilities (PIF & NIF) and metallurgical testing capabilities. Collaboration is also planned on detector development and reactor core imaging.
"The collaboration with TRIUMF is a major milestone for us, as the planned material testing is crucial for further development," said Ahmed Hussein, Dual Fluid's Chief Research Officer.
Kathryn Hayashi, CEO of TRIUMF Innovations (TRIUMF's commercialisation arm) said the world is looking increasingly to nuclear power as a major opportunity for energy generation, "and TRIUMF is uniquely poised to advance these technologies through materials characterisation at our leading-edge facilities and with support from our wide-reaching international network of subatomic physics research expertise". She noted that the arrangement with Dual Fluid highlights "the strategic advantages that TRIUMF can enable for scientific collaborations between Canada and countries around the world".
According to Dual Fluid, the operating principle of its reactor design is based on different fluids for fuel and cooling. Dual Fluid Energy was incorporated as a public company in Vancouver, Canada, in January 2021 to bring its technology to serial production status. The prototype of a Dual Fluid reactor is expected to be launched by 2030.
Instead of fuel rods, Dual Fluid uses two circulating fluids: One contains the fuel and the other extracts the heat. "The nuclear fuel can unleash its entire potential at 1000 degrees Celsius. This offers an entirely new dimension in terms of performance and efficiency," the company says on its website. It continues: "Nuclear power today utilises fuel rods which are a construct from the early days of nuclear technology. With fuel rods, only a very small proportion of the uranium is utilised, leaving the vast majority of it to be disposed of as waste. Existing fluid nuclear concepts utilise the fuel better, though because the same fluid is used to simultaneously transport the fuel and extract the heat, these concepts are limited in their performance."
Dual Fluid claims that its power plant is always safe and protected. "The plant regulates itself completely: if the temperature increases, the nuclear fuel expands. As a result, the atomic reactivity automatically subsides and the temperature drops entirely on its own. The reactor can therefore never overheat – just like a glass of water on a table cannot spontaneously start to boil." Melting fuse plugs in the ducts provide additional protection. "If the expected temperature is exceeded, they melt. Then the fuel flows down into special containers and the chain reaction stops immediately."
---
Image: The core of the new reactor design (courtesy of Dual Fluid)