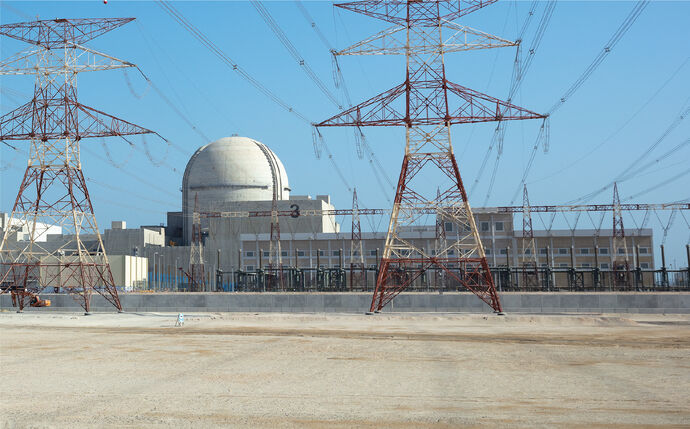 The Emirates Nuclear Energy Corporation (Enec) has announced that its operating and maintenance subsidiary Nawah Energy Company (Nawah) has begun commercial operations of unit 3 of the Barakah NPP in the United Arab Emirates (UAE).
Construction of the $20bn Barakah NPP began in 2011 after South Korea won a tender for the project in 2009. Korea Electric Power Company (Kepco) led the consortium that is building the plant comprising four APR1400 reactors. Unit 1 started up and was connected to the grid in 2020, followed by unit 2 in 2021. Unit 1 began commercial operation in April 2021 and unit 2 in March 2022. Unit 3 was connected to the grid in October 2022. Unit 4 completed hot functional testing in July 2022 and is now in the final stages of commissioning. Once all four units are operating, they will contribute up to 25% of the UAE's National Determined Contributions to Net Zero and be the largest source of dispatchable clean electricity.
Enec said teams at Barakah have reduced the time between uel loading and commercial operation for unit 3 by four months compared with unit 2, and by more than five months compared with unit 1. The teams used experience gained from the previous two units while continuing to adhere to all national regulations and international standards, as confirmed by the Federal Authority for Nuclear Regulation (FANR) and the World Association of Nuclear Operators (WANO).
Enec Managing Director Mohamed Ibrahim Al Hammadi, said: "Barakah is a successful global benchmark for other nations looking to diversify their energy portfolio during a time of international energy crises. With three units now operating commercially, we are delivering energy security, powering sustainable economic growth, driving innovation and contributing to achieve our Net Zero strategy by 2050. We look forward to showcasing just how critical nuclear is in tackling climate change, using proven solutions available today, at COP28 in the UAE in November."
Enec noted the continued support from the Emirates Water & Electricity Company (EWEC) and the Abu Dhabi Transmission & Dispatch Company (TRANSCO). "EWEC and TRANSCO's support in maintaining a world-class electric grid infrastructure is critical for the reliable distribution of electricity from the Barakah Plant."
FANR confirmed that Nawah had met all regulatory requirements. Since issuing the operating licence for unit 3 in June 2022, FANR has continued its regulatory oversight: starting with fuel loading, testing, the criticality phase and connecting the unit to the UAE national electricity transmission grid.
"The commercial operation of unit 3 of Barakah Nuclear Power Plant is another major achievement which is the result of significant efforts made over the past years since the establishment of the UAE Nuclear Energy Programme, said FANR Director-General Christer Viktorsson. "During that period, FANR reviewed the nuclear power plant in terms of site selection, construction, testing and finally operation to ensure the operator complies with all regulatory requirements to ensure the safety of the public and the environment."
He added: "FANR is proud to have Emirati nuclear experts who played a crucial role in the licensing process and oversight of the nuclear power plant since its inception: carrying out inspection in matters related to nuclear safety, nuclear security and nuclear non-proliferation. We are proud that over 74% of FANR's workforce are Emiratis. I congratulate the UAE government and its leadership for such an achievement."
---
Image: Barakah unit 3 which has now entered commercial operation (courtesy of Enec)